Harsh Inspector General Report Says 0 of 16 Afghan Agencies can be Trusted with U.S. Aid
Saturday, February 01, 2014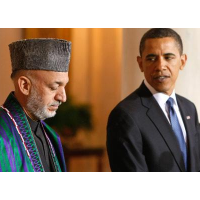 Afghan President Karzai and President Obama (AP photo)
Suspicions of corruption in Afghanistan's government have lingered for years since the U.S. invaded the country 13 years ago and helped install President Hamid Karzai in power. But the latest report from a government watchdog characterizes the problem as being so bad that not a single Afghan agency can be trusted with American tax dollars.
The Special Inspector General for Afghanistan Reconstruction has filed many bad reports on the U.S. effort to stabilize the country. But a new one (pdf) found damning information on U.S. funding provided to the Afghan government. It also accuses the U.S. State Department and the United States Agency for International Development (USAID) of attempting to keep that information Congress and the American people.
The report states that Afghan officials permitted two international auditing firms hired by the Obama administration— KPMG and Ernst & Young—to inspect their operations. Using information collected by those firms, SIGAR concluded not a single Afghan government agency—out of 16 in total—is trustworthy enough to spend U.S. tax money properly—meaning keep it from being wasted or stolen.
Examples cited include the Afghan Ministry of Public Health, which was supposed to receive $236.5 million. But the money was in danger of misappropriation "arising from payment of salaries in cash," according to a USAID risk assessment cited by SIGAR.
Also, the Afghan Mines Ministry was suspected of paying "kickbacks and bribes" using American dollars from Washington.
SIGAR chief John F. Sopko said that the U.S. strategy of providing more direct financial assistance to the Afghan government is "the biggest gamble with taxpayer money that USAID has ever made." At the same time, he acknowledged that those payments would likely continue no matter what problems were brought to light, according to The New York Times.
In taking to task the State Department and USAID over its failure to be forthright with Congress about the damning assessments made in the audits, the SIGAR report stated that U.S. officials adopted less than 10% of the precautions they could have taken to reduce the risk of aid money being lost to corrupt Afghan officials.
The Obama administration expressed displeasure with SIGAR's report, saying its findings might make the already brittle relationship between Washington and Kabul even weaker.
USAID appeared to be dismissive of the report and claimed that no specific instances of fraud on the part of the Afghan government had been cited. The agency warned SIGAR in a letter that the report's release would probably lead to "reduced cooperation from the Afghan government, and could undermine our ability to conduct proper oversight of direct assistance programs in the future."
It also urged SIGAR to "not make this sensitive material available to the public."
SIGAR disagreed, arguing the American public had a right to know how their tax dollars are being used in Afghanistan.
-Noel Brinkerhoff, Danny Biederman
To Learn More:
U.S. Aid to Afghans Flows On Despite Warnings of Misuse (by Matthew Rosenberg and Azam Ahed, New York Times)
After Billions in U.S. Investment, Afghan Roads Are Falling Apart (by Kevin Sieff, Washington Post)
Direct Assistance: USAID Has Taken Positive Action to Assess Afghan Ministries' Ability to Manage Donor Funds, but Concerns Remain (Special Inspector General for Afghanistan Reconstruction) (pdf)
Inspector General Warns that with Opium Production Skyrocketing, Afghanistan Could become "a Narco-Criminal State" (by Noel Brinkerhoff, AllGov)
U.S.-Led Military Unit in Afghanistan Lost $230 Million in Spare Parts, Then Spent $138 Million for More (by Noel Brinkerhoff, AllGov)