USAID's Millions Often Spent Blindly in Afghanistan, with Taliban as Occasional Beneficiary
Thursday, December 17, 2015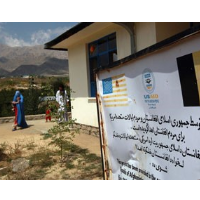 USAID-funded clinic in Farza, Afghanistan (photo: John Moore, Getty Images)
The United States Agency for International Development (USAID) has wasted millions of dollars on projects in Afghanistan that, among other things, helped the Taliban.
Many USAID projects were intended to "stabilize" the country and demonstrate to the local populace that they should support the U.S.-backed Afghan government. But an internal investigation (pdf) of USAID efforts in the war-torn country found that many of them had the opposite result.
For instance, "villagers believed that the projects would not have been allowed to take place without the Taliban's approval, and so their support for the Taliban, rather than for the United States or the Afghan government, actually increased because of the aid," The New York Times reported.
The authors of the study, Management Systems International, an agency contractor, said "stabilization programming actually had the perverse effect of increasing support for the Taliban in Taliban-controlled villages."
In other cases, USAID did such a poor job of managing its projects that Taliban leaders were able to successfully submit requests through intermediaries for American aid projects for villages under their control. The study also found that USAID's targeting of some villages not under Taliban control resulted in increased violence from the Taliban.
One American official told USAID that it was difficult to evaluate the agency's work because they couldn't go out and examine them, due to security concerns.
Another official said: "The money is going out, but it's hard to track. A lot of projects got captured by Afghans who steered aid to where they wanted it to go, to their villages." Other projects couldn't be found. "USAID came to us and said, 'We can't find our projects,'" one person involved with the study evaluating the two stabilization programs told the Times. "And they asked us to help find them. We realized that there was a lot of ghosting in the data. We would go through the data they would give us on the location of a project and try to find where there really was a project, whether it was in a nearby village. And sometimes we couldn't find anything."
Instead of seeding aid projects over a wide area, some say they should be concentrated in areas that are held by government forces and where they can do the most good. "We got confused," Andrew Wilder, an analyst at the United States Institute for Peace, told the Times. "We fooled ourselves into thinking that money could stabilize the situation, rather than create instability."
-Noel Brinkerhoff, Steve Straehley
To Learn More:
Afghans See Taliban as a Key to U.S. Aid Projects, Study Finds (by James Risen, New York Times)
Afghanistan: USAID 'Stability' Programs Increased Support for Taliban (by Edwin Mora, Breitbart)
Taliban Using Jihadist Textbooks…Supplied by the U.S. (by Noel Brinkerhoff and Danny Biederman, AllGov)
USAID Cancels Controversial Contract Proposal for "Positive Images" of Its Work in Afghanistan (by Steve Straehley, AllGov)
Harsh Inspector General Report Says 0 of 16 Afghan Agencies can be Trusted with U.S. Aid (by Noel Brinkerhoff and Danny Biederman, AllGov)