Longtime U.S. Policy in Afghanistan Allows Military Allies to Rape Children
Tuesday, September 22, 2015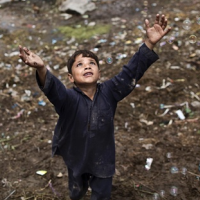 An Afghan boy (photo: Muhammed Muheisen, AP)
The United States has been turning a blind eye to a culture practice in Afghanistan where men of power rape young boys as a sign of status.
The practice, called bacha bazi ("boy play"), has abhorred American soldiers serving in Afghanistan. But most did nothing to stop the rampant pederasty on orders from commanders, who in turn were told by the Obama and Bush administrations to not interfere with the raping.
"The American policy of nonintervention is intended to maintain good relations with the Afghan police and militia units the United States has trained to fight the Taliban," according to The New York Times.
The U.S. military spokesman in Afghanistan, Colonel Brian Tribus, wrote in an email: "Generally, allegations of child sexual abuse by Afghan military or police personnel would be a matter of domestic Afghan criminal law. …There would be no express requirement that U.S. military personnel in Afghanistan report it." An exception, he said, is when rape is being used as a weapon of war, the Times reported.
The raping of boys deeply bothered many soldiers. Those that took action to stop it have been punished by the military.
Dan Quinn, a former Special Forces captain, was relieved of his command and eventually left the military after he beat up an American-backed militia commander who kept a boy chained to his bed as a sex slave.
"The reason we were here is because we heard the terrible things the Taliban were doing to people, how they were taking away human rights," Quinn said "But we were putting people into power who would do things that were worse than the Taliban did — that was something village elders voiced to me."
The Army is also trying to forcibly retire Sergeant First Class Charles Martland, a Special Forces member who joined Quinn in beating up the commander.
Representative Duncan Hunter (R-California) is trying to help Martland and keep him from losing his military career, saying the soldier should not be kicked out like Quinn for coming to the aid of sexual abuse victims.
-Noel Brinkerhoff
To Learn More:
U.S. Soldiers Told to Ignore Sexual Abuse of Boys by Afghan Allies (by Joseph Goldstein, New York Times)
Green Beret: Striking Corrupt Afghan Got Me Kicked Out (by Kyle Jahner, Army Times)
Bacha Bazi: The Tragedy of Afghanistan's Dancing Boys (by Roshni Kapur, The Diplomat)
Bacha Bazi: An Afghan Tragedy (by Chris Mondloch, Foreign Policy)
8-Year-Long Ban on Sex Trafficking in War Zones Never Enforced (by Noel Brinkerhoff, AllGov)