Murder Charges Filed Against U.S. Officials by Family of Innocent Pakistani Man Killed in U.S. Drone Strike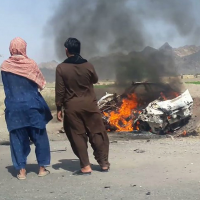 Remains of taxi moments after U.S. drone strike, killing driver Azam and Taliban chief (photo: AFP/Getty)
By Abdul Sattar, Associated Press
QUETTA, Pakistan (AP) — The family of a driver who was killed alongside Taliban chief Mullah Akhtar Mansour in a U.S. drone strike in Pakistan has filed a case against U.S. officials, seeking to press murder charges, police said Sunday.
Mansour had entered Pakistan from Iran using a false name and fake Pakistani identity documents on May 21, when his car was targeted by a U.S. drone. The driver, who was also killed, was later identified as Mohammed Azam.
The police filed a case on behalf of Azam's family, police official Abdul Wakil Mengal said.
It was not immediately clear what legal avenues the family can realistically pursue.
In the case documents, his brother Mohammed Asim describes Azam as an "innocent man" and a father of four who was the family's sole breadwinner. "I want justice," Asim said, according to the case file.
"In our view, both the (officials) who ordered and those who executed the drone strike are responsible for (killing) a man who had nothing to do with terrorism, who was a non-combatant," Azam's uncle, Allah Nazar, told The Associated Press.
Nazar said his nephew's death had broken the family. He said that as well as caring for his children, Azam was supporting a disabled brother and his mother, who is blind.
"I have got a simple question to ask the American authorities, that's: how will this family survive?" Nazar said.
He said the family was seeking financial compensation from American and Pakistani authorities to support Azam's family and fund his children's education.
Pakistan condemned the U.S. drone strike, describing it as a violation of its sovereignty.
On Sunday Pakistan's interior ministry announced that a DNA test confirmed that Mansour had been killed in the U.S. drone attack. American and Afghan officials had already confirmed Mansour's death, but Islamabad had declined to do so before the DNA test results.
Earlier this week, the Afghan Taliban selected a religious hard-liner, Mullah Haibatullah Akhundzada, as their new head.
Associated Press writer Asif Shahzad in Islamabad contributed to this report.
To Learn More:
U.S. Lawsuit by Yemen Drone Strike Victims' Families Seeks Truth, Accountability and Apology (by Noel Brinkerhoff, AllGov)
Civilian Afghan Deaths from U.S. Drone Strikes Continue to Build Hatred of U.S. (by Noel Brinkerhoff, AllGov)
Lawmakers Vote against Disclosing Victims of U.S. Drone Attacks (by Matt Bewig, AllGov)