Federal Judge says Prisoner must Stay at Guantánamo because U.S. is Still at War in Afghanistan even if Obama Says War is Over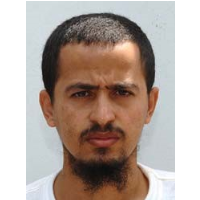 Muktar Yahya Najee al Warafi (photo: Department of Defense)
As long as a single bullet is fired between the Taliban and American forces in Afghanistan, Muktar Yahya Najee al Warafi may continue to languish in a prison cell in Guantánamo Bay.
Warafi has been in the custody of the U.S. military at Guantánamo since 2002. The U.S. says it has evidence that Warafi fought for the Taliban, making him a prisoner of war.
Warafi's lawyer, citing declarations by President Barack Obama that the Afghan war is over, tried to get him released. The government has an obligation to release all POWs at the end of a conflict.
But federal Judge Royce Lamberth rejected Warafi's argument, saying regardless of what Obama has said publicly, U.S. soldiers are still fighting Taliban insurgents in Afghanistan. In other words, the war goes on, and POWs like Warafi must remain behind bars.
"A court cannot look to political speeches alone to determine factual and legal realities merely because doing so would be easier than looking at all of the relevant evidence," Lamberth ruled. "The government may not always say what it means or means what it says."
According to Lamberth, a state of war does not end when there ceases to be "armed conflict," but rather when there is an end to "hostilities."
At the end of last year, the U.S. formally ended its combat mission in Afghanistan, but thousands of American military personnel remain in the country. Since the beginning of 2015, three Americans have been killed in Afghanistan, the latest being Krissie Davis, a grandmother and a longtime civilian employee of the Defense Department, who died June 8 following a rocket attack at Bagram Air Base.
-Noel Brinkerhoff
To Learn More:
U.S.-Taliban Fight Goes On, So Guantánamo Detainee Stays, Court Says (by Charlie Savage, New York Times)
Judge Lamberth Decides Warafi (by Marty Lederman, Just Security)
Mukhtar Yahia Naji al Warafi v. Barack H. Obama (U.S. District Court for the District of Columbia)
Guantánamo Prisoner Asks "Why am I Still Here?" (by Steve Straehley, AllGov)
Congressional Republicans Fight Hard to Keep Guantánamo Open Forever (by Noel Brinkerhoff, AllGov)