Obama Plans $195 Million in Renovation and New Construction at Guantánamo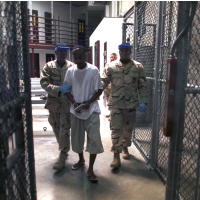 Inside Camp 6 high-security detention facility at Guantanamo Bay March 30, 2010 (photo: Brennan Linsley, AP)
Despite his 2008 campaign promise to close the U.S. government's detention center for suspected terrorists at Guantánamo Bay, Cuba, President Barack Obama's administration last week announced plans to spend $195 million on renovation and new construction there—strongly implying that the nation's taxpayers can expect to pay to imprison the center's 166 inmates, 86 of whom have been cleared of wrongdoing, for many years to come.
Initially, on Wednesday, General John F. Kelly, Commander of the U.S. Southern Command, requested $150 million to $170 million for renovations to the prison complex, including $99 million for two barracks facilities, $12 million for a new mess hall, and millions more for consolidating scattered legal, medical and communications facilities. He also made a cryptic reference to "other projects that I couldn't talk about here in the open but do have to do with replacing one of the camp facilities where some of the detainees are—special detainees are housed."
Pressed for details, Lt. Cmdr. Ron Flanders, a Southcom spokesman, admitted that Southcom also needed an additional $49 million to build a new building at Guantánamo for so-called "high-value" detainees like Khalid Shaikh Mohammed, the self-described architect of the terrorist attacks of September 11, 2001. That brings the total amount requested up to about $195.7 million, the Pentagon said on Thursday.
Human rights groups, which want the prison closed, reacted with frustration. "These are more U.S. taxpayer dollars being spent on the pointless and damaging policy of keeping Guantánamo open," Laura Pitter, counterterrorism advisor for Human Rights Watch, told Foreign Policy. "In Obama's own words, Guantánamo weakens U.S. national security. The U.S. should either prosecute those detained at Guantánamo against whom it has any credible evidence or release them to home or third countries."
On April 5, Navi Pillay, the United Nations High Commissioner for Human Rights, called on the United States to close Guantánamo because the indefinite imprisonment of prisoners without charge or trial violates international law.

Although Obama came into office saying he wanted to close the offshore prison complex, which has been criticized by human rights advocates the world over, his efforts were hampered by Congress, which passed legislation in December 2010 effectively banning the transfer of Guantánamo detainees to the U.S., despite the fact that pre-9/11 terrorists and others are held at the "super-max" prison in Florence, Colorado.
-Matt Bewig
To Learn More:
Money Requested for New Prison at Guantánamo (by Charlie Savage, New York Times)
Human Rights Groups Protest New $49 Million Guantánamo Prison (by John Hudson, Foreign Policy)
House Majority Doesn't Trust Supermax Prison Guards (by Noel Brinkerhoff, AllGov)