U.S. and Global Partners Launch Assault on Infectious Disease Threats
Friday, February 14, 2014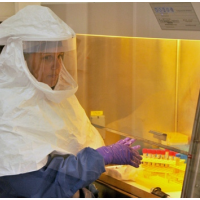 CDC medical researcher (photo: Stephen Wandera, AP)
Seeking to minimize the dangers of deadly disease outbreaks, the Barack Obama administration announced this week that it plans to work with more than two-dozen countries and international bodies to create a new anti-infectious-disease initiative.
Led by the Centers for Disease Control and Prevention (CDC), the U.S. will partner with governments around the world to mitigate infectious diseases that threaten to spread across borders.
The CDC along with the Pentagon are already working as part of a $40 million effort involving 10 nations to help Uganda and Vietnam in their fights against several life-threatening illnesses.
In Uganda, the dangers range from the Ebola virus to cholera to drug-resistant tuberculosis. Vietnam has dealt with outbreaks of SARS (severe acute respiratory syndrome) and the H5N1 bird flu strain.
SARS raised alarms in many foreign capitals about 10 years ago when the pandemic, which began in China, took the lives of nearly 800 people in more than 30 countries, while consuming $30 billion in resources.
The new initiative seeks to prevent, detect, and stop infectious-disease threats before they get out of hand. In doing so, the governments hope to not only reduce potential mortalities stemming from these diseases, but also reduce their financial strain on government programs.
The U.S. hopes to accomplish these goals by bolstering security at infectious-disease laboratories, strengthen immunization programs, and create emergency-response centers that can react rapidly to outbreaks.
In addition to Vietnam and Uganda, the U.S. expects involvement from China, India, Russia, Saudi Arabia, South Africa, and others.
The World Health Organization, the Food and Agriculture Organization of the United Nations, and the World Organisation for Animal Health are also participating in the effort.
-Noel Brinkerhoff
To Learn More:
U.S. Launches New Global Initiative to Prevent Infectious Disease Threats (by Lena H. Sun, Washington Post)
Is Obsession with Bioterrorism Leaving U.S. Vulnerable to "Normal" Deadly Viruses? (by Noel Brinkerhoff, AllGov)
Urgently Needed Antibiotics Research Is Put on Risky Fast Track (by Noel Brinkerhoff, AllGov)