Secretary of Health and Human Services: Who Is Alex Azar?
Friday, November 17, 2017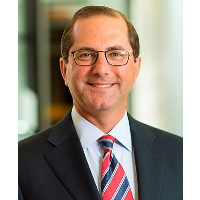 Alex Azar
When President Donald Trump had to find another Secretary of Health and Human Services after Tom Price resigned in disgrace after less than eight months in office, he turned again to Vice President Mike Pence's Indiana gang. In one of its members, Alex Azar, Trump has another corporate executive who will be called upon to regulate the industry he recently left.
Alex Michael Azar II was born June 17, 1967, in Johnstown, Pennsylvania, to Alex, an ophthalmologist, and Linda Azar. Azar's grandfather came to the United States from Lebanon. Alex later moved with his family to Salisbury, Maryland, where his father set up a successful medical practice. Azar graduated from Parkside High School in Salisbury and went on to Dartmouth College, where he earned a B.A. in government and economics in 1988. He then went to Yale Law School, earning a J.D. in 1991.
Azar, a member of the right-wing Federalist Society, then clerked for J. Michael Luttig, a judge on the Fourth Circuit Court of Appeals, before moving in 1992 to clerk for Supreme Court Justice Antonin Scalia.
Azar worked briefly as an associate at the law firm of Kirkland and Ellis. In September 1994, Ken Starr hired Azar as an assistant independent counsel in the investigation of President Bill Clinton. In this position, he argued that the White House must turn over notes of meetings between First Lady Hillary Clinton, her private lawyer and the White House counsel because members of the federal government are not protected by attorney-client privilege. Azar left the independent counsel's office in 1996 to return to private practice, this time as a partner at Wiley, Rein and Fielding.
During the 2000 presidential election, Azar worked for the Bush-Cheney campaign and was one of the lawyers contesting the Florida election results on behalf of the GOP. After the Supreme Court decided Bush v Gore in Bush's favor, Azar was repaid by being named general counsel for the Department of Health and Human Services. In April 2005, he was promoted to deputy secretary and chief operating officer for the department and unanimously confirmed by the Senate two months later. In 2006, he used his position to lobby the government of the United Kingdom to allow advertisements for the muscle relaxant DTC and to allow drug manufacturers to advertise directly to patients.
Azar left government service in January 2007 to become senior vice president for corporate affairs and communications for drug giant Eli Lilly; essentially, he was the chief lobbyist for the Indianapolis-based corporation. After the Barack Obama administration, likely less susceptible to Azar's charms, took over in 2009, Azar was transferred to be vice president of managed health care services for Lilly's Puerto Rico operation. He eventually was named president of Lilly USA, the company's sales and marketing arm. When he was passed over to be Lilly's CEO in 2016, he left the company and set up his own healthcare consultancy, Seraphim Strategies.
Azar initially supported Jeb Bush for the 2016 GOP presidential nomination, but later gave $2,700 to a "Trump Victory" committee. Records show that since 2008 Azar has donated more than $96,000 to Republicans.
Trump announced Azar's nomination on Twitter, saying he would: "be a star for better healthcare and lower drug prices." Actually, Azar has resisted drug-price controls. During his tenure at Lilly, the company increased the price of its insulin product, Humalog, by 345% from $2,657.88 per year to $9,172.80 per year, according to Public Citizen. The consumer group's president, Robert Weissman, said of Azar's nomination: "It is highly unlikely that a pharmaceutical company executive who has made passionate arguments against price restraints is going to advance real reform." Rep. Elijah Cummings (D-Maryland) went a little farther, tweeting: "This is a slap in the face to millions of Americans who are waiting on [the President] to take action to lower drug prices."
During Azar's tenure at Eli Lilly, the company paid $29 million to settle bribery charges concerning payments to government officials in Russia, China, Brazil, and Poland, and agreed to a settlement permanently enjoining the company from violating anti-bribery rules of the Foreign Corrupt Practices Act.
Azar has opposed the Affordable Care Act and wants to see Medicaid, which now covers all eligible Americans, turned into block grants that won't guarantee that coverage. If he's confirmed, Azar will join Indianans Seema Verma, a former Pence assistant who's head of the Centers for Medicare and Medicaid Services, and Surgeon General Jerome Adams in the Trump administration's health-care team.
Azar and his wife, Jennifer, have two children: Claire and Alex III.
-Steve Straehley
To Learn More:
Who Is Alex Azar? Former Drugmaker CEO and HHS Official Nominated to Head Agency (by Maureen Groppe, USA Today)
Trump Taps Ex-Pharma Executive Azar as U.S. Health Secretary (by Caroline Humer and Yasmeen Abutaleb, Reuters)
Trump Picks Alex Azar to Lead Health and Human Services (by Juliet Eilperin and Amy Goldstein, Washington Post)
"Why Not Freddy Krueger?" Trump Picks Big Pharma Exec Alex Azar to Head HHS (by Jake Johnson, Common Dreams)