Administrator of the Centers for Medicare and Medicaid Services: Who Is Seema Verma?
Thursday, November 16, 2017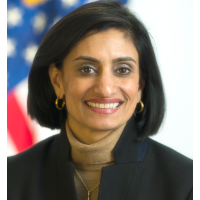 Seema Verma
Seema Verma, a long-time consultant in the health care industry, was named on November 29, 2016, as President-elect Donald Trump's choice to lead the Centers for Medicare and Medicaid Services. She was sworn in on March 14, 2017.
Verma, the daughter of Indian immigrants, earned a bachelor's degree in life sciences from the University of Maryland in 1993 and a master's in public health from Johns Hopkins University in 1996. Early in her career, she served as a director of the Association of State and Territorial Health Officials in Washington, D.C., and as vice president of planning for the Health and Hospital Corporation of Marion County in Indianapolis.
In 2001, Verma founded SVC, a health-care consultancy. She started work in 2006 on the proposal that became the "Healthy Indiana Plan," a healthcare plan endorsed by then-Governor Mitch Daniels (R) that put patients in high-deductible health plans and forced most to put at least some money in health savings accounts. Such plans "act as barriers to obtaining and maintaining coverage for low-income groups," according to the Kaiser Family Foundation. "If you're talking about someone whose total income is $100 a month or $200 a month or is homeless, that is when it becomes particularly burdensome," MaryBeth Musumeci, associate director for the Kaiser Commission on Medicaid and the Uninsured, told The Washington Post.
Verma's work for Indiana proved lucrative. SVC received more than $3.5 million in contracts from the state. At the same time that Verma was advising Indiana, she worked for Hewlett-Packard, which was trying to win a contract from the state. Hewlett-Packard paid Verma, who had an office in the state government center, $1.2 million, but won more than $500 million in contracts—including some involving Healthy Indiana—from the state, according to reporting by The Indianapolis Star. Indiana's ethics laws don't forbid such a conflict of interest, according to The Star.
In 2014, the state increased Verma's payout by about $300,000, although neither her workload nor the length of the contract increased, The Star reported. Indiana officials provided only a vague explanation—"to cover claims"—for the raise. Verma's work for the state continued through the administration of Governor, and Vice President-elect, Mike Pence.
Under Verma's "Healthy Indiana Plan," healthcare in the state has gone from bad to worse. In 2006, it was the 33rd healthiest state in a ranking by American Public Health Association and the United Health Foundation. By 2015, Indiana had fallen to 41st nationwide, The Post reported.
Verma has also consulted on similar plans for Michigan, Tennessee and Iowa. Her Indiana Plan removed people from Medicaid if they failed to contribute to a health savings account.
Since taking charge of CMS, Verma has spoken out in favor of work requirements for Medicaid recipients. According to Verma, "We've put more than 10 million people, 12 million people into this program where the doctors won't see them, and the policies that are in the Medicaid program are not designed for an able-bodied individual."
Verma and her husband, child psychiatrist Dr. Sanjay Mishra, have two children, Maya and Shaan. Mishra, a partner and medical director of Indiana Health Group, does not accept Medicaid.
-Steve Straehley
To Learn More
Confirmation Hearing Statement to Senate Committee on Finance
Trump Administration Will Support Work Requirements for Medicaid (by Robert Pear, New York Times)
Trump's Pick for Key Health Post Known for Punitive Medicaid Plan (by Jessica Glenza, Guardian)
CMS Nominee Set Up Indiana's Unusual Medicaid Expansion (by Lenny Bernstein, Washington Post)
Seema Verma, Powerful State Health-Care Consultant, Serves Two Bosses (by Tony Cook, Indianapolis Star)