Surgeon General of the United States: Who Is Jerome Adams?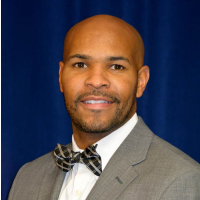 Jerome Adams
Dr. Jerome Adams, an anesthesiologist who served as Indiana's health commissioner under now-Vice President Mike Pence, was nominated on June 28, 2017, to be surgeon general of the United States. The Office of the Surgeon General is in charge of providing scientific information to the public and to lawmakers. It oversees the U.S. Public Health Service Commissioned Corps (USPHS), more than 6,700 public health professionals working throughout the federal government.
Adams is from Mechanicsville, Maryland. His father, Richard Adams was a school teacher. Jerome Adams graduated from Chopticon High School in 1992. A National Merit Scholar, he attended the University of Maryland Baltimore County, where he earned a B.S. in biochemistry and a B.A in biopsychology in 1997. While there, Adams participated in medical research projects in Zimbabwe and the Netherlands, focusing on the Ebola virus. He then entered medical school at Indiana University (IU), and during that time earned a master's in public health at the University of California in 2000. He earned his M.D. from Indiana in 2002. Adams completed his residency in anesthesiology at Indiana as well.
Adams is on staff as an anesthesiologist at Eskanazi Health, the public system in the Indianapolis area. He worked at Ball Memorial Hospital in Muncie and was a physician rapid responder at Indianapolis Orthopedic Hospital. He chaired Eskanazi's Pharmacy and Therapeutics Committee from 2013 to 2015.
Beginning in 2009, he was made an assistant professor of clinical anesthesia at IU. Adams chaired the professional diversity committee for the American Society of Anesthesiologists and served on the executive committee for the Indiana State Medical Association.
In October 2014, then Indiana Governor Mike Pence appointed Adams the state's health commissioner. He hadn't been in the job long when he had to deal with a crisis. Scott County, in a rural area near the Kentucky border, had an outbreak of HIV in 2015, caused by drug users sharing needles. Adams had to overcome Pence's opposition to needle exchange programs to slow the spread of disease.
"No matter how uncomfortable syringe service programs make us, they are proven to save lives, both by preventing the spread of diseases like HIV and hepatitis C, and by connecting people to treatment that can put them on a path to recovery," Adams wrote.
He also promoted the use of the overdose antidote naloxone in the state. In addition, he supported a state law that restricts the amount of opioid medication a prescriber may give to adult patients who have not previously taken opioids. Adams also oversaw Tobacco Prevention and Cessation Commissions under Pence, who in 2000 had declared that "despite the hysteria from the political class and the media, smoking doesn't kill."
Adams and his wife, Lacey, have three children: Caden, Eli and Amelia.
-Steve Straehley, David Wallechinsky
To Learn More:
Trump's Surgeon General Pick Built Name Fighting HIV And Opioids In Indiana (by Emily Forman, Side Effects Public Media)
Jerome Adams Nominated as New U.S. Surgeon General (by Andrew Joseph, Stat)
Official Biography (Indiana State Department of Health)