Department of Health and Human Services: Who Is Tom Price?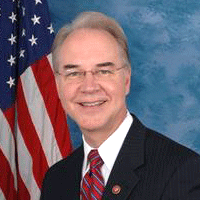 Tom Price
Rep. Thomas Edmunds Price (R-Georgia), a strong critic of the Affordable Care Act that has brought insurance to millions of Americans, was confirmed by a 52-47 U.S. Senate vote on February 10, 2017, as President Donald Trump's choice to lead the Department of Health and Human Services.
Price was born in Lansing, Michigan, on October 8, 1954. He grew up in Dearborn, Michigan, attending Adams Junior High and Dearborn High School, graduating in 1972. Price attended college in nearby Ann Arbor, earning a bachelor's degree in 1976 and an M.D. in 1979 from the University of Michigan.
Price went south to Atlanta's Emory University for his residency in orthopedic surgery. He remained in the area as he worked in private practice and became medical director of the Grady Memorial Hospital's orthopedic clinic. He also returned to Emory as an assistant professor.
Price has long been a member of the Association of American Physicians and Surgeons, a right-wing group that has fought against anti-smoking campaigns; opposed mandatory vaccination and connected vaccines to autism despite scientific evidence to the contrary; linked abortion to breast cancer, again without medical evidence; and denied that the HIV virus causes AIDS.
After more than two decades in the medical profession, Price moved into politics. In 1996, he was elected to the Georgia Senate, serving two terms as minority whip. In 2002 he became the body's first Republican majority leader. While there, Price took positions that might be expected of a conservative physician: he advocated for caps on medical malpractice awards and fought for so-called tort reform. Price also fought efforts to make it easier for Georgia's undocumented immigrants to get drivers licenses.
In 2004, Price set his sights on higher office as he ran to represent Georgia's Sixth Congressional District. He won the contest in Atlanta's wealthy northern suburbs. When Barack Obama moved into the White House, Price became a harsh critic of the president's efforts to bring healthcare to the nation's uninsured.
Price has advocated for the privatization of Medicaid, wanting to turn the program into block grants given to the states and roll back its expansion that has given medical coverage to 14 million people. He would transform Medicare into a voucher scheme, forcing patients to purchase insurance on the private market. His proposal to replace the Affordable Care Act includes the promotion of health savings accounts, which would provide tax savings for the well-off, but do little to help the poor. Price also would introduce work requirements for "able-bodied" recipients of healthcare assistance and he would convert the Affordable Care Act's income-based formula for assistance to tax credits based on an insured person's age. Under Price's plan, which he introduced as a 242-page bill in May 2015, patients could also be charged more if they failed to maintain continuous coverage.
Price has also supported allowing doctors to collectively bargain with health insurance companies. He has been a member of the American Medical Association's house of delegates since 2005. He is especially supportive of specialist doctors, such as orthopedic surgeons, anesthesiologists and radiologists, and they have been financially supportive of his election campaigns.
Price served as chair of the Republican Study Committee and chair of the House Republican Policy Committee before being named in 2015 to lead the House Budget Committee. He also sits on the House Ways and Means Committee's health panel, which oversees Medicare.
According to James V. Grimaldi and Michelle Hackman of The Wall Street Journal, between 2012 and 2016, Price bought and sold more than $300,000 worth of stock in about 40 health-care, pharmaceutical and biomedical companies, including Amgen, Bristol Myers Squibb, Eli Lilly, Pfizer, Aetna and Australian biomedical firm, Innate Immunotherapeutics.
Price met his wife, Betty, an anesthesiologist, when they both worked at Grady Memorial Hospital. She has followed her husband into politics, winning a 2015 special election for a Georgia house seat after serving on the Roswell, Georgia, city council. They have an adult son, Robert.
-Steve Straehley
To Learn More:
Donald Trump's Pick for Health Secretary Traded Medical Stocks While in House (by James V. Grimaldi and Michelle Hackman, Wall Street Journal)
Medical Specialists Donated Millions to Trump's Pick to End Obamacare (by Greg Gordon, Lesley Clark and David Goldstein, McClatchy)
Trump Names Rep. Tom Price as Next HHS Secretary (by Amy Goldstein and Philip Rucker, Washington Post)
Trump's Pick for Health Chief Is a Lansing Native (by Melissa Nann Burke, Detroit News)
Congressional Republicans Approve Huge Increase in Fund for Wars in Iraq and Afghanistan despite Pentagon Asking for Less (by Steve Straehley and Noel
Brinkerhoff, AllGov)
Congressional Ethics Office Investigates 8 Members for Fundraising on Eve of Wall Street Reform Vote (by Noel Brinkerhoff and David Wallechinsky, AllGov)