Boom in U.S. Arms Sales…A Risky Way to Create Jobs
Monday, February 14, 2011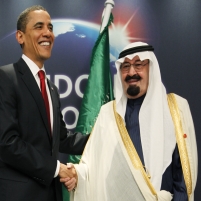 Barack Obama and King Abdullah of Saudi Arabia (AP Photo: Charles Dharapak)
Thanks to what critics are calling the "Obama arms bazaar," the
Department of Defense
has dramatically increased weapons sales to foreign governments as a means of creating new jobs or preventing others from disappearing.
From 1995 to 2005, the Pentagon sold arms overseas at an average of $13 billion annually. But last year Defense officials told Congress of future plans to sell up to $103 billion in weapons. More than half of that amount, $60 billion, will come from a huge package of military hardware being sold to
Saudi Arabia
, including 84 F-15 fighter planes.
The Saudi deal ensures Boeing will be able to keep its F-15 production line, which had slowed to a crawl, running strong until at least 2018. The defense contractor also will benefit from the inclusion of 70 Apache helicopters to the Middle Eastern country.
Boeing, as well as other defense giants like Raytheon and Lockheed Martin, is getting help from the White House, where President Barack Obama has encouraged U.S. allies to shop at the Pentagon. "Obama is much more favorably disposed to arms exports than any of the previous Democratic administrations," Loren Thompson, a veteran defense consultant, told Fortune.
In addition to Saudi Arabia, Obama has lobbied
India
to purchase $4 billion in aircraft from U.S. companies.
But spreading American-made weaponry, still considered the best overall in the world, to nations in volatile regions comes with a huge risk. Today's ally armed to the teeth with advanced aircraft or tanks could become tomorrow's unstable hotspot, or worse, a mortal enemy.
Take
Iran
for example. While the Shah was in power, the U.S. sold Iran F-14 fighters, then considered the best plane of its kind. But once the Islamic revolution came along in 1979, the U.S. suddenly had a hostile regime in control of made-in-the-USA hardware.
The fall of Hosni Mubarak in
Egypt
could have similar repercussions, if an anti-U.S. leader eventually takes over, and takes control of a military armed with billions of dollars in American military equipment.
-Noel Brinkerhoff