U.S. Weapons Makers on a Record-Setting Roll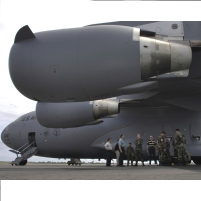 C-17 Globemaster
Unrest in the Middle East, a major market for arms sales, has not stopped the United States from enjoying a banner year selling military hardware abroad.
Aggressive promotion of military aircraft and air-defense systems by the Obama administration has helped lead the surge in sales, much to the delight of defense contractors Lockheed Martin and Boeing.
Lockheed Martin manufactures the C-130J transport plane, and Boeing the mammoth C-17 aerial cargo jet.
Other hardware in high demand include aerial drones, F-35 fighter jets and missile defense systems.
The United States leads the world in arms exports and accounts for one-third of all weapons sold internationally.
-Noel Brinkerhoff, David Wallechinsky