Expansion of Civilian Oversight of Police Approved by Voters in Major U.S. Cities
Sunday, November 13, 2016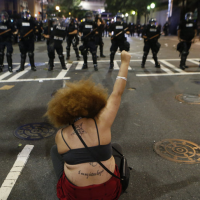 (photo: Brian Blanco, Getty Images)
By Sadie Gurman, Associated Press
DENVER (AP) — Amid a national push for greater police accountability, voters in several major cities have approved measures to create or strengthen civilian oversight of law enforcement.
The trend reflects growing public demand for independent reviews of misconduct claims after deadly police encounters in cities such as Ferguson, Missouri, Baltimore and New York spotlighted police use-of-force and interaction with minorities.
Voters in New Orleans, Honolulu, Miami and San Francisco passed plans Tuesday to bolster existing civilian oversight programs. In Oakland, California, voters created a powerful civilian-run police commission to investigate problems within the department reeling from a sex scandal involving several officers.
Denver voters added provisions to the city charter to protect the existing independent monitor system. The measure makes it impossible for officials to cut the position without another public vote.
"There's a recognition that to help fix the issues in policing, we need not only to be focused on the few bad apples but to identify problems with the barrel itself," said Denver's independent monitor, Nicholas Mitchell.
Civilian police review boards began forming during the civil rights movement in the 1960s and flourished in the early 1990s after Rodney King's beating by police officers in Los Angeles was captured on video, said Samuel Walker, a policing expert who studies citizen oversight.
Yet some efforts fizzled or shrank over the years due to budget cuts and other problems before the recent resurgence.
A Justice Department-funded study by the National Association of Civilian Oversight of Law Enforcement found at least 144 such oversight agencies in 2016 in the nation — up from 100 in 2001. Some cities such as New York and Chicago have inspector generals or police monitors who review policy and procedure; others have boards that eye citizen complaints about officers.
Many of those efforts were launched through executive orders or because city councils approved ordinances. It's unusual that the issue has been put directly to voters, Walker said, a sign that more people see civilian oversight as a key part of public safety.
"Once the consciousness of people has been awakened, their horror and outrage have manifested, as well as their desire to do something about it," said Rashidah Grinage, coordinator of the Coalition for Police Accountability, which drafted the measure in Oakland giving the seven person panel the power to discipline personnel, including the chief.
Voters in Honolulu overwhelmingly passed a city charter amendment giving the civilian oversight commission power to fire the chief, as well as to subpoena witnesses and evidence as it conducts investigations.
Supporters in Hawaii have been calling for more civilian oversight of the department, which has been under investigation by a grand jury over allegations of civil rights abuses and corruption that emerged from a theft case involving the police chief's mailbox, according to a federal public defender.
Some police unions have welcomed civilian oversight but leaders expressed concern about the fairness of the disciplinary process for officers.
"We've worked hand in hand with civilians as part of the discipline process for a long time," said Denver police Sgt. Bryan O'Neill, vice president of the city's Police Protective Association. Such programs can improve community trust, he said, "it just has to be administered fairly and appropriately."
Associated Press writer Cathy Bussewitz in Honolulu contributed to this report.
To Learn More:
Police Union Contracts with Major Cities Shield Officers Charged with Misconduct (by Noel Brinkerhoff and Steve Straehley, AllGov)
Maryland Court Rules that Police Disciplinary Records can be Hidden from the Public (by Steve Straehley, AllGov)
Are Baltimore Police Engaged in a Low-Profile Work Slowdown to Protest Oversight? (by Steve Straehley, AllGov)
Do States' "Police Bill of Rights" Undermine Law Enforcement Accountability? (by Noel Brinkerhoff, AllGov)