Do States' "Police Bill of Rights" Undermine Law Enforcement Accountability?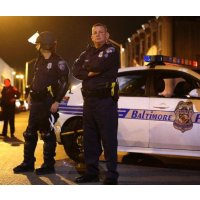 (photo: Patrick Semansky, AP)
The death of Freddie Gray last month while in police custody in Baltimore has put a spotlight on a Maryland state law that critics say allows police officers avoid being held accountable for abuse and other violations of the law.
Known as the "police officers' bill of rights," the laws in 14 states grant law enforcement special treatment not afforded to non-police accused of crimes.
Maryland was the first to adopt a police bill of rights the early 1970s. The statute allows officers to wait 10 days before talking to investigators. "There should be no reason why they should have 10 days to get their story together," Tré Murphy, coordinator for the Baltimore United for Change Coalition, told The New York Times. "They are not being held accountable, and frankly, we need to do something about it."
In addition to the waiting period, the laws limit the amount of time officers can be questioned and forbids investigators from lying to obtain an admission of wrongdoing—something detectives routinely do while interrogating non-police suspects. They also can limit when and how long an officer is questioned and allow for a union representative to be present during questioning.
The Maryland bill of rights also establishes a three-month statute of limitations on people filing complaints against officers—even if they are unable to come forward during that time because they are hospitalized.
Baltimore's mayor, Stephanie Rawlings-Blake, tried before the Gray incident happened to get the police bill of rights modified. But she said lawmakers in the Maryland legislature looked at her "like I had three eyes" for proposing any changes to the law. The legislation, introduced by Democrat Jill P. Carter, never budged in the Maryland House of Delegates.
Police claim they need the extra protection because, although they have the constitutional right to remain silent during an interrogation, they also face dismissal if they fail to answer questions at the direction of their superiors.
-Noel Brinkerhoff
To Learn More:
Complaints in Baltimore about Law Offering Protections for Officers (by Timothy Williams, New York Times)
Blue Shield: Did You Know Police have Their Own Bill of Rights? (by Eli Hager, Marshall Project)
The Police Officers' Bill of Rights (by Radley Balko, Washington Post)
2010 Maryland Code: Public Safety; Title 3 – Law Enforcement; Subtitle 1 - Law Enforcement Officers' Bill of Rights; Section 3-104 - Investigation or Interrogation of Law Enforcement Officer (Justia: US Law)
When Cops Lose Civil Rights Violation Judgments, They Don't Pay the Damages (by Noel Brinkerhoff, AllGov)
Police Departments Investigated for Civil Rights Abuses Still Get Free Military Weapons (by Noel Brinkerhoff, AllGov)