Police Union Contracts with Major Cities Shield Officers Charged with Misconduct
Friday, December 18, 2015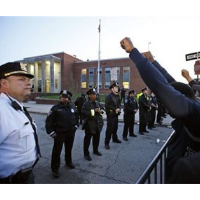 Baltimore police face protesters during Freddie Gray demonstration (photo: Alex Brandon, AP)
Police officers accused of using excessive force, such as those in Baltimore charged in the death of Freddie Gray, are often shielded from investigation by their union contracts.
A report by criminologist Samuel Walker at the University of Nebraska at Omaha found several "offensive provisions" that get in the way of accountability and violate best practices in the contract between Baltimore and the Fraternal Order of Police, which represents police in the city.
The provisions noted by Walker include the expungement of internal records and the use of a "do not call" list of officers who cannot testify, which can "impede the effective investigation of reported misconduct and shield officers who are in fact guilty of misconduct from meaningful discipline," Walker wrote.
The activist group Campaign Zero looked at more than 50 contracts in other departments and "found that the vast majority have provisions that block accountability and protect officers from being investigated, indicted, and ultimately convicted," ThinkProgress reported.
Those provisions were:
· Preventing police officers from being interrogated immediately after being involved in an incident;
· Preventing information on past misconduct investigations from being recorded or retained in an officer's personnel file;
· Disqualifying misconduct complaints that are submitted more than 180 days after an incident or that take more than one year to investigate; and
· Limiting civilian oversight structures from being given the authority to discipline officers for misconduct.
Three departments cited by Campaign Zero that have all those restrictions in their contracts are Seattle; Austin, Texas; and Columbus, Ohio.
"In the aftermath of Ferguson and other incidents that have happened across the country, [we looked] at how police unions have been a reactionary force that in many ways are used to protect the officers involved in these incidents," Sam Sinyangwe, one of the founders of Campaign Zero, told ThinkProgress. "Beyond the rhetoric and the stuff they were doing to raise money for officers who had been charged or indicted, the question was: what more were police unions doing on a policy level to protect those officers and block accountability?"
-Noel Brinkerhoff, Steve Straehley
To Learn More:
Why Is It So Hard To Convict Police Officers? The Answer Is In the Fine Print (by Kira Lerner, ThinkProgress)
Which Cities Erase Police Complaints as a Matter of Policy? (by Brentin Mock, CityLab)
Union Contracts Key to Reducing Police Misconduct (by Max Schanzenbach, Tidewater Review)
Black Lives Matter Takes Aim at Police-Union Contracts (by Conor Friedersdorf, The Atlantic)
Maryland Court Rules that Police Disciplinary Records can be Hidden from the Public (by Steve Straehley, AllGov)
Do States' "Police Bill of Rights" Undermine Law Enforcement Accountability? (by Noel Brinkerhoff, AllGov)