VW Accused of Deleting Data after EPA Exposed Emissions Cheating
Wednesday, March 16, 2016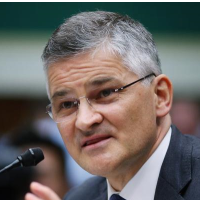 Michael Horn, former CEO of Volkwagen of America (photo: Chip Somodevilla, Getty Images)
By Jack Ewing, New York Times
A former Volkswagen employee has filed a whistle-blower lawsuit in Michigan, asserting that co-workers illegally deleted electronic data shortly after the U.S. government accused the carmaker of cheating on emissions tests.
The former employee, Daniel Donovan, who according to the lawsuit worked as an information manager in an Auburn Hills, Michigan, office overseen by Volkswagen's in-house lawyer, says he was fired in December because his superiors believed that he was about to report the company to U.S. authorities for obstruction of justice.
In addition to wrongful dismissal, the lawsuit filed last week in Oakland County Circuit Court in Michigan accuses Volkswagen of violating the state's whistle-blower protection law.
Volkswagen of America said in a statement Monday that the claim of wrongful dismissal was "without merit."
"The circumstances of Mr. Donovan's departure were unrelated to the diesel emissions issue," the statement said.
The lawsuit could be a blow to Volkswagen's credibility during difficult settlement negotiations with the authorities in Washington.
Volkswagen, facing steep declines in U.S. sales, is in talks with the Justice Department and the Environmental Protection Agency about what penalties it must pay for equipping diesel vehicles with software designed to circumvent emissions tests.
The company is also trying to reach agreement on how to fix almost 600,000 diesel vehicles in the United States that are still on the road and using the illegal software to emit tailpipe pollutants at much higher levels than allowed under U.S. air quality rules.
Charles R. Breyer, a federal judge in San Francisco overseeing the Justice Department case against Volkswagen as well as civil suits filed by thousands of diesel car owners, has told the company to present a plan on March 24. That is the date of a hearing in the case at the U.S. District Court for the Northern District of California.
It is doubtful whether Volkswagen will be able to meet the deadline, and doing so will be even more difficult if U.S. officials believe that Volkswagen destroyed evidence. The accusation could prompt officials — already angry about what they regard as months of stalling by Volkswagen before it admitted wrongdoing — to take a harder line in the talks.
Events described in Donovan's lawsuit suggest there was intense infighting at Volkswagen of America starting on Sept. 18, when the EPA publicly accused Volkswagen of emissions cheating.
According to the lawsuit, Donovan was told on Sept. 18 by his superiors to instruct the chief information officer at the Volkswagen offices in Auburn Hills not to delete any electronic records. Donovan's lawsuit contends that he was acting in accordance with laws requiring companies to preserve evidence when they are under investigation.
The chief information officer replied to Donovan's telephone call with an obscenity, according to the lawsuit, and wanted to know why a lower-ranking employee was telling him what to do. Information technology workers continued to delete electronic data until Sept. 21, the lawsuit claims.
Even after that date, they destroyed backup information because of what they said was a shortage of storage space, the lawsuit says. In addition, according to the lawsuit, outside accountants hired by Volkswagen complained that they could not get access to all the data they wanted.
Donovan says he told managers in information technology that they could be accused of obstructing justice, and that he did not want to take part.
He learned on Dec. 5 that he might be fired when a person outside the company called to offer condolences, the lawsuit says. Donovan said he was formally informed of his dismissal on Dec. 6.
Donovan was fired "because he was about to report the obstruction of justice and spoliation of evidence to the EPA, the Department of Justice, the FBI, or other public body," the lawsuit asserts.
Sam Morgan, a lawyer in Farmington Hills, Michigan, who filed the lawsuit on behalf of Donovan, declined to comment.
To Learn More:
Volkswagen Now Investigated for Fraud on Buyers' Environmental Tax Credits (by Steve Straehley, AllGov)
VW Programmed Diesel Cars to Cheat on Emissions Tests (by Ken Broder and Noel Brinkerhoff, AllGov)
VW Emissions-Cheating Cars Added 32 Million Tons of Extra Carbon Pollutants into Atmosphere (by Noel Brinkerhoff, AllGov)