Top Kansas Official under Fire for Errors in Kansas Spanish-Language Voter Guides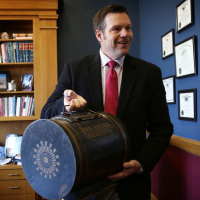 Kansas Secretary of State Kris Kobach with 1890s ballot box (photo: Christopher Smith, Washington Post/Getty Images)
By David Lee, Courthouse News Service
TOPEKA, Kansas (CN) - Critics have blasted Kansas Secretary of State Kris Kobach as incompetent after errors were discovered in Spanish-language voter guides that could have caused voters to miss registration deadlines.
English-language voter guides told voters they must be registered 21 days before an election, while Spanish-language guides stated 15 days, Daily Kos first reported. The Spanish version also failed to list passports as an acceptable form of voter identification or proof of citizenship to register.
Kobach spokesman Craig McCullah took responsibility for the errors, telling the Wichita Eagle they are the result of clerical errors when the guides were updated for this year's election.
"It was an administrative error that I am diligently working to fix," he said on April 8.
The deadline error has since been corrected in the Spanish version and the rest of the text is being sent to a professional translating services, Kobach said.
Critics say the errors are another example of Kobach enacting policies that disenfranchise minority voters. A staunch advocate of photo-identification laws, Kobach has pursued at least three criminal prosecutions of alleged voter fraud.
Kobach has been criticised for handling the defense of Brian D. Newby, the executive director of the federal Election Assistance Commission, in a lawsuit that claims the agency impermissibly allowed several states to demand proof of citizenship to register. Kobach came to Newby's defense after the Justice Department refused to defend the decision because the agency believes it is illegal, The New York Times reported.
Newby was formerly a Johnson County Election Office commissioner who was appointed by Kobach.
To Learn More:
Latino Political Influence Bolstered by Supreme Court Redistricting Ruling (by Mark Sherman, Associated Press)
U.S. Election Official under Fire for "Secretive" Action Imposing Voter Citizenship Requirement in Three States (by Roxana Hegeman, Associated Press)
Majority of Latinos Don't Vote (by Noel Brinkerhoff, AllGov)
Kansas Officials Fight to Hide Voting Machine Records (by Noel Brinkerhoff, AllGov)
Study Demonstrates Election Official Bias against Latinos (by Noel Brinkerhoff and Danny Biederman, AllGov)
Kansas Salesman Claims He was Fired for Voting for Obama (by Noel Brinkerhoff, AllGov)