Kansas Officials Fight to Hide Voting Machine Records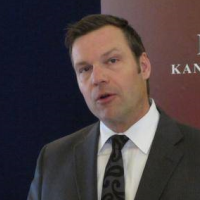 Kris Kobach (photo: John Hanna, AP)
The top elections official in Kansas is trying to use the courts to keep electronic voting records hidden from public view in response to a researcher's efforts to determine why voting anomalies were recorded during the last election.
Kansas Secretary of State Kris Kobach has gone to court in Wichita to block the release of voting machine paper tapes from the November 2014 election. Those same records were requested by Beth Clarkson, chief statistician for Wichita State University's National Institute for Aviation Research, to analyze statistical aberrations she discovered in electronic voting machines, according to the Sunlight Foundation.
The records, Clarkson says, do not contain any personally identifiable data belonging to voters, just information on ballots that were cast. But Republican Kobach's office has refused to turn over the records, and election officials claim the information sought is not available under the state's Open Records Act (pdf).
In fact, officials told Clarkson they could not reproduce the records even if told to because they consist of paper rolls that are 385 feet in length and are stored in 42 boxes, with each vote taking up about 27.5 inches of paper.
Clarkson, who is a certified quality engineer with a doctorate in statistics, filed a similar lawsuit in 2013 in an attempt to get voting records released, but she was denied by a judge who said that ballots may not be released in spite of their containing no personal information on voters.
"Clarkson's research certainly raises questions warranting additional investigation — and without those records, questions linger," Melissa Yeager wrote at the Sunlight Foundation. "In the interest of transparency and to calm fears from voters still wary about electronic voting machines, this paper trail should be open for inspection."
Clarkson has not said the anomalies mean the machines were tampered with. But her research into other voting records, including those from Ohio's 2012 presidential race, Wisconsin's 2014 governor's race and Kansas' 2014 Senate race revealed anomalies that tended to favor Republicans.
"I noticed that there are patterns in the data that are suspicious," Clarkson told Lawrence Journal-World. "Some voting systems were being sabotaged, but that doesn't mean that no other explanations are possible for these patterns."
-Noel Brinkerhoff
To Learn More:
Kansas Officials Rebuff Lawsuit Seeking Voting Machine Records (by Melissa Yeager, Sunlight Foundation)
Kansas Seeks to Block Release of Voting Machine Paper Tapes (by Roxana Hegeman, Associated Press)
Kansas Statistician Battles Government To Determine Whether Vote Count Is Flawed (by Karen Dillon, Lawrence Journal-World)
Report Shows Voter ID Laws Cut Participation in 2012 Election in Kansas and Tennessee (by Noel Brinkerhoff, AllGov)