Study Demonstrates Election Official Bias against Latinos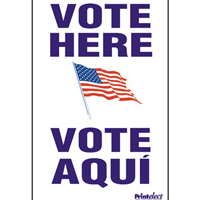 (graphic: Printelect.com)
Election officials in the United States are sometimes biased towards Latinos, according to a study out of Harvard.
Political science graduate students Julie Faller, Noah Nathan and Ariel White contacted more than 7,000 local election administrators in 46 states to ask them about voter ID laws.
The researchers used phony names when making their queries, such as Greg Walsh and Luis Rodriguez. The text of the emails were:
Hello,
I've been hearing a lot about voter ID laws on the news. What do I need to do to vote?
Thank you,
and
Hello,
I've been wondering about this. Do you have to vote in the primary election to
be allowed to vote in the general elections?
Thank you,
An analysis of more than 4,500 responses, along with non-responses, indicated that emails sent from Luis Rodriguez or "Jose Martinez" were "significantly less likely to receive any response from local election officials than non-Latino white aliases and receive responses of lower quality," they wrote in their paper (pdf).
Of the responses to the emails written with Latino aliases, 31.3% were either non-informative, inaccurate or ambiguous, whereas 24.9% of the responses to Greg Walsh and "Jake Mueller" fell into these categories.
"This raises concerns about the effect of voter ID laws" and "about bias in the provision of information by local bureaucrats more generally."
However, the report did conclude "that states with stricter voter ID laws did not exhibit greater differences in response to Latinos versus non-Latinos."
Nonetheless, voter ID advocate True the Vote was not impressed with the researchers' work. The study is "a conclusion in desperate search of a viable methodology," organization president Catherine Engelbrecht grumpily told The Washington Post.
-Noel Brinkerhoff, Danny Biederman
To Learn More:
What Do I Need to Vote? Bias in Information Provision by Local Election Officials (by Julie K. Faller, Noah L. Nathan and Ariel R. White) (pdf)
Study: Election Officials are biased against Latino Voters (by Dylan Matthews, Washington Post)
Minority Youth More Likely to be Asked for ID When Voting than Whites (by Noel Brinkerhoff, AllGov)
Qualified Latinos Trail other Groups in Actually Voting (by Noel Brinkerhoff, AllGov)