Majority of Latinos Don't Vote
Tuesday, September 01, 2015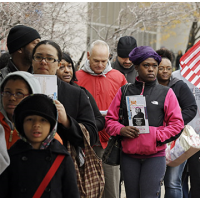 Voters in line to cast ballots in 2012 election (photo: Mark Duncan, AP)
Donald Trump's immigrant-bashing message has raised questions about a backlash among Hispanic voters in response to the candidate's ugly rhetoric. But while Hispanic turnout in elections has been steadily climbing in recent elections, the fact is most of these Americans still don't cast ballots on Election Day.
A new study (pdf) out of Stanford University shows only 47% of Hispanic voters went to the polls during the 2012 election. That means 53% didn't vote, even though 20% of those who didn't were registered.
Another 13% were unregistered, while an even larger segment (20%) were unlisted, which made them "invisible" to political parties looking to court new supporters, according to researchers Simon Jackman and Bradley Spahn.
Unlike Hispanic voters, most black voters and white voters did participate three years ago in the election, Jackman and White determined. Fifty-eight percent of blacks cast ballots, while 71% of whites did the same.
-Noel Brinkerhoff
To Learn More:
Unlisted in America (by Simon Jackman and Bradley Spahn) (pdf)
Why Black and Hispanic Citizens Are Being Left Out Of Voter Registration Drives (by Kira Lerner, ThinkProgress)
5 Takeaways about the 2014 Latino Vote (by Jens Manuel Krogstad and Mark Hugo Lopez, Pew Research Center)
Minority Youth More Likely to be Asked for ID When Voting than Whites (by Noel Brinkerhoff, AllGov)