Muslim U.S. Army Reservist Sues Oklahoma Gun Range for Denying Him Service
Sunday, February 21, 2016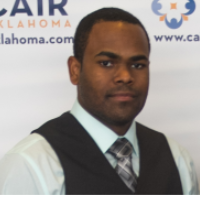 Raja'ee Fatihah (photo: CAIR)
By Sean Murphy, Associated Press
OKLAHOMA CITY (AP) — A U.S. Army reservist from Tulsa asked to leave a gun range in eastern Oklahoma after identifying himself as a Muslim sued the owners Wednesday, the latest in a series of cases across the nation alleging anti-Islamic discrimination.
The lawsuit on behalf of 29-year-old Raja'ee Fatihah, an employee with the Oklahoma Department of Human Services, was filed in U.S. District Court in Muskogee against the owners of Save Yourself Survival and Tactical Gun Range in the small town of Oktaha.
A sign posted on the business declared the range a "Muslim-free" establishment, and is similar to signs that have been placed at businesses in Florida, Arkansas, Kentucky and New York, said Brady Henderson, legal director for the Oklahoma chapter of the American Civil Liberties Union, which filed the suit.
"Whether the sign in question says 'no Muslims' or whether it says 'no coloreds' or whether it says 'no women' or 'no Christians' or 'no Buddhists' ... it is just as un-American and fundamentally it is just as wrong," Henderson said.
Fatihah, who is a board member with the Muslim advocacy group Council on American-Islamic Relations' Oklahoma chapter, said he went to the gun range after learning about the sign. He said the owners of the store were pleasant and welcoming until he told them he was Muslim.
"At that point, they started treating me with suspicion," Fatihah said.
A similar lawsuit was filed by CAIR last year against a gun shop in Florida, but that case was dismissed by a federal judge who determined CAIR could not prove its members were harmed by the store's Muslim-free policy, Henderson said.
Robert Muise, with the American Freedom Law Center, represented the Florida gun shop owner and now is working for Chad Neal, the owner of the Oklahoma gun range.
Muise said Fatihah was denied service because he was belligerent, not because of his religion, and that the sign declaring the shop a "Muslim-free" business is protected free speech.
"The only thing the law prohibits is if somebody denies services strictly on the basis of religion, and that didn't happen here," Muise said.
Fatihah denies that he acted belligerently.
Claims of discrimination by business owners against Muslims have been reported in numerous states, and formal complaints have been filed with the U.S. Department of Justice regarding incidents in Arkansas, Florida and New Hampshire, said CAIR's national director, Ibrahim Hooper.
"It's one of those issues that's tied to the overall rise of anti-Muslim bigotry in our society," Hooper said.
U.S. Department of Justice spokeswoman Dena Iverson declined to comment Wednesday on the status of the complaints.
A report released Wednesday by the civil rights advocacy group the Southern Poverty Law Center suggests that anti-Islamic rhetoric is increasing and becoming more mainstream, particularly after the terrorist attacks in Paris and San Bernardino, California. The group noted an increase in the number of anti-Islamic hate groups from 24 in 2013 to 34 in 2014, and that number likely will increase again once data from 2015 is compiled, said Heidi Beirich, SPLC's intelligence director.
"My feeling is that anti-Muslim and anti-LGBT sentiment will continue to rise," said Beirich, who blamed politicians for perpetuating the fears Americans have of terrorism and the Islamic State.
"They point to the fact that there have been attacks by Muslim extremists, and then they foster fear connected to these attacks."
To Learn More:
Muslim-Americans in U.S. Military Jolted by Anti-Muslim Sentiment in U.S. (by Steve Straehley and Noel Brinkerhoff, AllGov)
Anti-Muslim Rhetoric, Once Used Only by Far-Right, Has Now Gone Mainstream Republican (by Steve Straehley, AllGov)
Conservatives Decide Trump Qualifies as a Fascist (by Noel Brinkerhoff, AllGov)
FBI Anti-Extremism Program Criticized for Targeting Muslims Over Right-Wing Extremists (by Noel Brinkerhoff, AllGov)