Muslim-Americans in U.S. Military Jolted by Anti-Muslim Sentiment in U.S.
Friday, December 11, 2015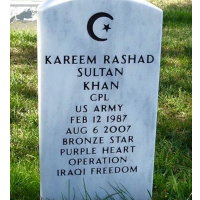 Khan, an American Muslim, was a U.S. soldier who served in the Iraq war (photo: Facebook)
Among the millions of American Muslims having to endure hate speech directed at those of their faith are those serving in the U.S. military.
The Washington Post interviewed several current and former soldiers who follow Islam. One, Marine Gunnery Sergeant Emir Hadzic, joined the service after he fled Yugoslavia. "The way Americans welcomed us made such a huge impression on me that I felt like I owed something back," Hadzic said. "I thought I would sign up and pay my debt and on behalf of my family."
Hadzic is still in the Marines, but is concerned about the growing anti-Muslim sentiments. "We used to be a balanced people. We used to be true to our values, but now we're willing to betray our values because of a sense of fear? That's not American," Hadzic said. "What the hell happened to that America I immigrated to?"
Some Muslims serving in the military have taken aim at Donald Trump, the candidate for the Republican presidential nomination who has made many derogatory comments aimed at their faith, including saying Muslims should not be allowed into the United States. "I think what Donald Trump said is completely un-American," Abdi Akgun, a staff sergeant in the Marine Corps, told The Daily Beast. "It's completely outrageous. There are a lot of Muslims in this country who have pledged to be an American, that are paying their taxes, and are law-abiding citizens. And for Donald to make statements that are bigoted in nature is … not what being an American is about."
There are about 6,000 Muslim service members. Their numbers are so few—comprising less than 1% of the armed forces— that they "often find themselves acting as representatives for the religion in their platoons, answering basic questions about the tenets of Islam," Thomas Gibbons-Neff wrote at the Post.
"If Donald Trump was president in 1989, or 1984 … if he had been president and had these policies in effect, we wouldn't be having this conversation right now because maybe I never would have been born in America," Mohammed Shaker, a Rand Paul-supporting Young Republican who was deployed to Iraq as an Army medic with the 82nd Airborne, told The Daily Beast.
Some say the climate in the U.S. is worse than ever since the Sept. 11 attacks. "The rhetoric is definitely different, it's very alarming," former Corporal Ibrahim Hashi told the Post. "And I'm concerned for myself and my family's safety."
-Steve Straehley, Noel Brinkerhoff
To Learn More:
For Muslims in the U.S. Military, a Different U.S. than the One They Swore to Defend (by Thomas Gibbons-Neff, Washington Post)
Muslim-American Soldiers to Trump: STFU (by Asawin Suebsaeng, Daily Beast)
More than 5,000 Muslims Serving in US Military, Pentagon Says (by Mariam Khan Luis Martinez, ABC News)
Anti-Muslim Rhetoric, Once Used Only by Far-Right, Has Now Gone Mainstream Republican (by Steve Straehley, AllGov)
Conservatives Decide Trump Qualifies as a Fascist (by Noel Brinkerhoff, AllGov)