Anti-Muslim Rhetoric, Once Used Only by Far-Right, Has Now Gone Mainstream Republican
Monday, December 07, 2015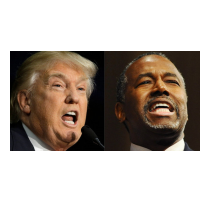 Donald Trump, Ben Carson (AP photos)
Once relegated to late-night AM radio, anti-Muslim extremism has found a home in the Republican Party.
A report (pdf) by the National Security Network outlines how anti-Muslim rhetoric has become commonplace among Republicans. "The current political climate is the culmination of a years-long and well-funded effort to bring Islamophobia and xenophobia from the far-right fringe to the political mainstream," according to the report, which was written after last month's Paris terror attacks but before the shootings in San Bernardino last week.
The GOP's current leader for its presidential nomination, Donald Trump, has made many comments suggesting, for example, that Muslims be registered in a national database and issued special identification noting their religion. Trump has also urged that U.S. mosques be closed.
But Trump, who will say just about anything to get in front of a camera, isn't the only prominent Republican giving voice to such sentiments. Competing presidential nominee Marco Rubio of Florida did Trump one better—he said he would close not just mosques, but cafés, diners and Internet sites. Ben Carson, the neurosurgeon who had at one point closely trailed Trump in the polls but is now slipping, has compared Syrian refugees to "rabid dogs."
These comments are a stark contrast to then-President George W. Bush's exhortations not to blame all Muslims for the 9/11 attacks and Mitt Romney's rebuke of anti-Muslim comments during his 2012 presidential run.
Much of the hateful speech has been directed at refugees fleeing the fighting in Syria. At least 30 governors, such as Texas Republican Greg Abbott, have said they won't allow Syrians to settle in their states—an action that experts say would likely be ruled unconstitutional—and some have threatened to monitor or kick out refugees already residing in their state. These comments—exploiting and spreading fear of terrorists sneaking into the United States in the guise of refugees fleeing Syria—come even though earning refugee status is one of the hardest ways to gain entrance to the United States. For instance, it's much easier to come into the country on a tourist visa. Refugees must undergo a strict vetting process to ensure applicants are who they claim to be.
Of course, one danger of the right-wing's anti-Muslim rhetoric is that it becomes a self-fulfilling prophecy. "It plays dangerously into the hands of the Islamic State and other terrorist groups that thrive on the alienation of Muslim populations in the West," according to the report. "The promotion of anti-Muslim extremist narratives already threatens the U.S. effort to resettle Syrian refugees displaced by war and terrorism, a cruel abdication of American leadership and responsibility that confuses the victims of terrorism with its perpetrators. Left unchecked and unchallenged, these narratives also threaten constitutional protections – as presidential candidates have already tied these narratives to limitations on the free exercise of speech and religion."
-Steve Straehley
To Learn More:
Anti-Muslim Rhetoric Has Gone From Fringe to Mainstream, Report Says (by Justin Salhani, ThinkProgress)
Mainstreaming Hate: The Far-Right Fringe Origins of Islamophobic and Anti-Refugee Politics (by J. Dana Stuster and Samuel Davidoff-Gore, National Security Network) (pdf)
Muslims in America Condemn Extremists and Fear Anew for Their Lives (by Laurie Goodstein, New York Times)
Conservatives Decide Trump Qualifies as a Fascist (by Noel Brinkerhoff, AllGov)
Syrian Refugees Already Face a 21-Step Vetting Process for Entering the U.S. (by Noel Brinkerhoff and Steve Straehley, AllGov)
Would Jesus Have Turned Away Syrian Refugees? (by Noel Brinkerhoff and Steve Straehley, AllGov)
Since 9/11, More Americans have been Killed by Right-wing Extremists than by Muslim Jihadists (by Noel Brinkerhoff and Danny Biederman, AllGov)