Director of U.S. Citizenship and Immigration Services: Who Is Leon Rodriguez?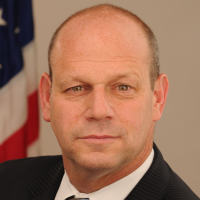 President Barack Obama nominated Leon Rodriguez on December 19, 2013, to be director of U.S. Citizenship and Immigration Services in the Department of Homeland Security. His nomination was sent to the full Senate by the Senate Judiciary Committee on April 3, 2014. The director is responsible for administering and processing asylum and refugee applications, immigration benefits and naturalization and visa petitions.
Rodriguez was born in 1962 in Brooklyn, N.Y. to Cuban immigrants. His grandparents came to Cuba from Turkey and Poland, escaping anti-Semitism. When he was four years old, Rodriguez moved with his parents to Miami, where they ran a business. He attended Brown University, where he earned a Bachelor of Arts in History in 1984. Rodriguez received his J.D. from Boston College in 1988.
After graduation, Rodriguez returned to Brooklyn, working as an assistant district attorney in the Kings County District Attorney's office. He was there eight years, prosecuting cases including some against members of the Colombo and Genovese crime families.
In 1994, Rodriguez had his first taste of Washington, working as a trial attorney in the Department of Justice's Civil Rights Division. In 1997, when he went to work for the U.S. Attorney's office in Pittsburgh. There, he eventually rose to be first assistant U.S. attorney, focusing on health care fraud.
Rodriguez joined the private sector in 2001, becoming a partner in the firm of Ober, Kaler, Grimes and Shriver in Washington, again focusing on health care law. He remained there until 2007, when he was appointed county attorney for Montgomery County, Maryland, near Washington. Rodriguez left that position in 2010. During that period, he also worked for President Obama's Justice Department transition team in 2008 and 2009.
Rodriguez returned to the Civil Rights Division in 2010 as chief of staff and deputy assistant attorney general, overseeing the division's administrative operations and cases involving discrimination based on national origin and immigration status.
In 2011, President Obama nominated Rodriguez to lead the Department of Labor's Wage and Hour Division. However, his nomination was withdrawn because of Republican opposition to his work in the Civil Rights Division.
In September 2011, Rodriguez moved over to the Department of Health and Human Services to lead its Office of Civil Rights. Much of his work there involved bringing cases against medical and insurance organizations for violations of HIPAA, the Health Insurance Portability and Accountability Act for breaches of patient information.
Rodriguez is married to a physician, Dr. Jill Schwartz. They have two children, Talia and Elias. Rodriguez speaks several foreign languages, including Spanish, French, Hebrew and Italian.
-Steve Straehley
To Learn More:
Former DOJ Official to Lead DHS Agency (by Jennifer Koons, Main Justice)