Secretary of the Department of Homeland Security: Who Is Jeh Johnson?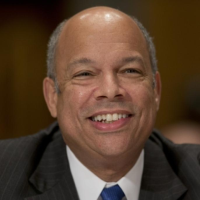 Jeh C. Johnson was sworn in December 23, 2013, as the fourth Secretary of Homeland Security in the department's short history. As the head of Department of Homeland Security (DHS), Johnson oversees much of the nation's domestic security apparatus. He was confirmed by the Senate for the post December 16, 2013.
Johnson (whose first name is pronounced Jay) was born in New York City on September 11, 1957, and grew up in Wappingers Falls, New York, living across the street from the woman who would eventually become his wife, dentist Susan DiMarco. He graduated from Morehouse College in Atlanta in 1979 and received his law degree from Columbia University in 1982. While he was an undergraduate, he was a summer intern for Sen. Daniel Patrick Moynahan (D-New York).
Johnson started his career in 1982 at the law firm of Sullivan and Cromwell, but in 1984, he joined the firm of Paul, Weiss, Rifkind, Wharton and Garrison. Johnson would move back and forth between that firm and government service right up to his appointment as DHS secretary. His first move into government service came in 1989, when he became an assistant U.S. attorney for the Southern District of New York.
During his stint in the U.S. Attorney's office, Johnson worked on several prominent cases, including the prosecution of a former congressman, Robert Garcia, in the Wedtech scandal and the conviction of a New York state senator, Andrew Jenkins, for money laundering.
Johnson returned to Paul Weiss in 1992. While there, he unsuccessfully defended a client who had attempted to extort $5 million from McDonald's with the client claiming he'd found a rat tail in his French fries. He had many more successes during his stints with the firm, however. He won while defending flooring company Armstrong World Industries in an anti-trust suit and successfully defended Citigroup and Salomon Smith Barney against claims.
In 1998, President Bill Clinton asked Johnson to join his administration as general counsel of the Air Force. He served in that post until 2001 when, with the arrival of the George W. Bush administration, Johnson returned to Paul Weiss. He remained there until 2008, but did work in 2004 as a campaign advisor to then-Sen. John Kerry (D-Massachusetts) in his run for the presidency. In 2008, Johnson earned $2.6 million at Paul Weiss.
Johnson served as a foreign policy advisor in Barack Obama's first presidential campaign. In addition, he was a major bundler of campaign funds in that race. After Obama's inauguration, Johnson was named general counsel for the Department of Defense. One of his major achievements in that position was the co-authorship of a report on why the military's Don't Ask, Don't Tell policy should be overturned. Congress took its recommendations to heart and now gays may serve openly in the armed forces.
Johnson was also a defender of the military's increased use of drones, writing memos providing legal cover for their use. "In my view, targeted lethal force is at its least controversial when it is on its strongest, most traditional legal foundation," he told an audience at Fordham Law School in 2013. "The essential mission of the U.S. military is to capture or kill an enemy. Armies have been doing this for thousands of years. As part of a congressionally authorized armed conflict, the foundation is even stronger. Furthermore, the parameters of congressionally authorized armed conflict are transparent to the public, from the words of the congressional authorization itself, and the Executive Branch's interpretation of that authorization, which this Administration has made public."
At the end of 2012, Johnson left government service, returning once again to Paul Weiss. Just a few months later, though, in October 2013, Obama nominated Johnson to be Secretary of Homeland Security to replace Janet Napolitano.
Johnson's unusual first name comes courtesy of his grandfather, Charles S. Johnson, at one time president of historically black Fisk University. The elder Johnson was sent to Liberia on a fact-finding mission for the League of Nations. While there, he met a tribal chief whom he admired and named one of his sons for him. That son was Jeh Johnson Sr., the father of the DHS secretary.
The secretary's uncle, Robert B. Johnson, was a member of the Tuskegee Airmen during World War II. While in training, he was arrested as part of the April 1945 "Freeman Field Mutiny," in which black officers tried to use an officers' club that was restricted to whites. Johnson was reprimanded over the incident.
Johnson and his wife have two children, Jeh Jr. and Natalie.
-Steve Straehley
To Learn More:
Nomination of Hon. Jeh C. Johnson to be Secretary, U.S. Department of Homeland Security (U.S. Senate Committee on Homeland Security and Governmental Affairs)