Judge Rejects CIA Claim that FOIA Request for Mandela Records is "Burdensome"
Wednesday, March 23, 2016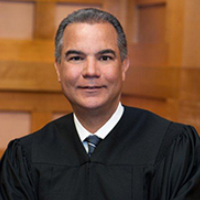 Judge Christopher R. Cooper
By Tim Ryan, Courthouse News Service
WASHINGTON (CN) - The CIA cannot hide behind the excuse that a researcher's request for all of its files on Nelson Mandela is overbroad to dodge a lawsuit against it, a federal judge ruled Thursday.
In 2013 Massachusetts Institute of Technology doctoral candidate Ryan Shapiro sent Freedom of Information Act requests to the CIA, National Security Agency, Defense Intelligence Agency and the FBI looking for records mentioning former South African President Nelson Mandela, hoping to learn if the United States had a role in Mandela's 1962 arrest and imprisonment.
The CIA and NSA blocked his requests, with the CIA claiming the search would be "unreasonably burdensome" and the NSA refusing to confirm or deny the existence of Mandela-related records, a move known as a Glomar response.
Shapiro filed suit in U.S. District Court for the District of Columbia in 2014, claiming the agencies violated the Freedom of Information Act in skipping over his request.
The CIA filed a motion to dismiss the suit last June, though it backed away from its initial claim that looking for Shapiro's documents would be too time-consuming. Instead, the agency suggested the amount of time it would have to spend looking for the files was irrelevant, because Shapiro had not described in enough detail the records he was after, according to Thursday's opinion.
But U.S. District Judge Christopher R. Cooper disagreed, saying it is clear which records Shapiro would like to review.
"Regardless of how onerous it might be to locate them, there can be no dispute about which items are being requested - records in the CIA's possession that 'mention' Nelson Mandela or his three listed aliases," Cooper wrote.
Though he acknowledged a past court decision that held an agency does not have to release a whole document just because a search term is mentioned somewhere on it, Cooper said Shapiro's request would not require the CIA to spend much effort determining if a record was responsive.
Instead, the agency would just have to release any file containing Mandela's name, alias or an obvious reference to the civil rights legend, Cooper wrote.
"FOIA's reasonable-description requirement does not doom requests that precisely describe the records sought, even if compliance might overwhelm an agency's response team," Cooper wrote.
Cooper was also not swayed by the agency's original claim that the search for Shapiro's records would be too burdensome, in part because the CIA refuses to file a declaration of how long it take to review the files, according to the opinion.
"Because the scope of Shapiro's request is clear, this is plainly an argument that a satisfactory response would be too burdensome," Cooper wrote in denying the agency's motion to dismiss.
"But as the case law teaches, 'this court will not find a search unduly burdensome on conclusory statements alone,'" he added, quoting a 2012 opinion from the D.C. District Court.
In the same opinion Cooper determined the NSA's Glomar response was appropriate with regards to the intelligence documents the NSA holds on Mandela, but that the agency misinterpreted Shapiro's initial request and must address the documents that are not related to whether Mandela was an intelligence target of interest to the NSA.
Jeffrey Louis Light, a Washington attorney who represents Shapiro, said the CIA's position in the case is standard.
The agency typically claims that any request looking for records relating to a specific individual is overbroad, because it can't determine what two documents are related in some nebulous manner.
"They don't even want to be able to have the responsibility of saying it's burdensome, they just want to be able to reject things on their face," Light said.
But Light thinks this case might give FOIA filers a way around the agency's blind blockade.
"What was different about this case is we didn't ask for everything related to Mandela, we asked for everything mentioning Mandela," he said.
The U.S. Attorney's Office declined to comment, citing a department policy of not commenting on ongoing cases.
To Learn More:
Obama Administration Sets Record for Failure to Provide Documents for FOIA Requests (by Ted Bridis and Jack Gillum, Associated Press)
Is the Freedom of Information Act One of Our Least Respected Laws? (by Steve Straehley, AllGov)
Judge Orders CIA to Stop Abusing Freedom of Information Act Exemption (by Noel Brinkerhoff, AllGov)