Is the Freedom of Information Act One of Our Least Respected Laws?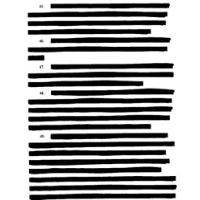 Redacted document released by U.S. government
When Barack Obama was first inaugurated, he promised that his administration would "usher in an era of open government." Instead, requests for documents under the Freedom of Information Act (FOIA) are increasingly being challenged or ignored by federal agencies.
The Border Patrol is one of the latest agencies to deny requests for information. University of Arizona law professors Derek Bambauer and Jane Yakowitz Bambauer requested documents from the agency on its "interior enforcement operations in Tucson and Yuma Sectors, including relevant agency policies, stop data, and complaint records." The Bambauers are looking into the Border Patrol's inland checkpoints, at which innocent American citizens are sometimes held and searched more than 100 miles from the border. They say the agency disregards its internal rules and Fourth Amendment rights with drug searches on flimsy pretexts.
The Border Patrol ignored the Bambauers' requests. The law professors then filed a lawsuit against the agency and the Department of Homeland Security for the information.
"We shouldn't have to go as far as filing a lawsuit to get these records," Professor Bambauer said in a statement. "This is public information about a matter of pressing public concern. We cannot allow DHS and Border Patrol to continue operating in our communities without being subject to public scrutiny."
The Border Patrol isn't the only agency playing fast and loose with the FOIA. The Federal Bureau of Investigation can't seem to decide how much information to release. One document, requested by Sen. Rand Paul (R-Kentucky) was released once in full, and later in a heavily redacted form. The Office of the Director of National Intelligence (ODNI) pulled a similar trick, releasing a heavily redacted version of its Intelligence Community Directive 304 on "Human Intelligence." Most of what was censored from that document had earlier been released by the ODNI in an earlier version.
States are also fighting tooth-and-nail to avoid releasing documents. Mark McBurney moved to Australia and tried to get Virginia to release documents related to his child-support payments. The state refused, saying it wasn't bound to release the information because McBurney was no longer a Virginia resident. The case went to the Supreme Court, which ruled this month that McBurney was not entitled to the information.
-Steve Straehley
To Learn More:
Yet Again, A Freedom Of Information Act Request Results In LESS Information Being Freed (by Tim Cushing, Techdirt)
The Government's Antipathy Towards Transparency Has Made FOIA Lawsuits The Default Process (by Tim Cushing, Techdirt)
Obama Cabinet Flunks Disclosure Test With 19 in 20 Ignoring Law (by Jim Snyder and Danielle Ivory, Bloomberg)
Homeland Security Faces Lawsuit Over Ignored FOIA Request (by Paul Joseph Watson, Infowars.com)
New Limitations to Freedom of Information Act Requests (On The Media)
FBI Redacts Letter About Drone Usage That Was Already Published In Full By Sen. Rand Paul (by Tim Cushing, Techdirt)
48 Years after Creation of Freedom of Information Act, State Dept., Defense Dept. and VA Get Failing Grades (by Noel Brinkerhoff, AllGov)
National Security Increasingly Cited in Freedom of Information Act Denials; EPA Suspected of Selective Obstruction (by Danny Biederman and Noel Brinkerhoff, AllGov)
Worst Freedom of Information Award Goes to...the FBI (AllGov)