Judge Denies Child Care License to Prison-Like Immigrant Detention Center in Texas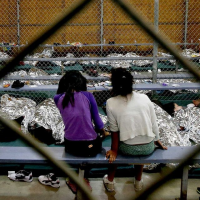 Children held in immigrant detention center (photo: Ross D. Franklin, Getty Images)
By Cameron Langford, Courthouse News Service
(CN) — In a rare win for immigrant advocates in Texas, a judge stopped the state's plan to grant a childcare license to a large federal immigrant detention center near San Antonio.
Travis County Judge Karin Crump granted Grassroots Leadership a temporary restraining order late Wednesday that prevents the Texas Department of Family and Protective Services (DFPS) from granting contractor Corrections Corporation of America a license for the South Texas Family Residential Center in Dilley, 50 miles southwest of San Antonio.
"Family detention camps are prisons," Grassroots Leadership's director Bob Libal said in a statement about the ruling. "They are not childcare facilities. DFPS has for a decade refused to regulate these facilities because they do not have authority to do so. The Texas agency has never regulated a facility this large.
"Yet they came up with a regulation allowing a license in three months. It was not done to protect children, but to protect the Obama administration's family detention program, putting children in harm's way."
Grassroots Leadership, founded in 1980, is an Austin-based civil rights group focused on the private-prison industry.
"Federal contracts for 'civil' immigrant detention remain the cash cow of the prison industrial complex," the group says on its website.
There are 1,368 people in the Dilley facility, which can house 2,400, U.S. Immigrations and Customs Enforcement told San Antonio's CBS affiliate KENS5.
Crump set a hearing on the order for May 13, after which she could temporarily block Texas from housing children in the prison, or find the license valid.
Texas is desperate to have somewhere to house the thousands of women and children who, starting in the summer of 2014, crossed the border illegally and turned themselves in to U.S. immigration authorities and asked for asylum, citing the gang violence and poor living conditions in their home countries of El Salvador, Guatemala and Honduras.
DFPS adopted the licensing regime after U.S. District Judge Dolly Gee ruled in July 2015 that the federal government's practice of housing mothers and their children in unlicensed prisons violated a 1997 settlement meant to stop the government from placing kids in such harsh conditions.
In response to Gee's ruling, the department adopted a rule on March 1 that places the prison in Dilley and the Karnes County Residential Center in Karnes City, 55 miles southeast of San Antonio, under the administration of its Child-Care Licensing Division.
The two prisons are the only in Texas set up to detain immigrant mothers and their kids, according to the department.
The temporary restraining order is a surprise victory for immigrant advocates, given that the Texas agency granted private contractor the Geo Group a license on Friday to keep immigrant children at the Karnes City prison, the Houston Press reported.
DFPS didn't publicly announce that decision. The Press found out by checking the department's database on Monday.
Attorneys and social workers who have visited the prisons say children there are not getting adequate medical care and are losing weight and hair, two signs of depression, the Press reported.
The Texas agency's effort to legitimize the detention of kids in the prisons through licensing suggests cooperation between the federal government and Texas on immigration.
That speaks to the complexity of U.S. immigration policy, where on one hand the Obama administration has set records for deporting undocumented immigrants, and at the same time it has introduced policies aimed at keeping law-abiding immigrant families together in the U.S.
Texas officials agree with the Obama administration's detention and deportation of undocumented immigrants, and are adamantly against letting those who entered illegally stay in the U.S.
Texas and 25 other states sued the federal government in December 2014 to block the Obama administration from offering a deportation reprieve for parents of U.S. citizens and permanent residents.
The Fifth Circuit twice upheld an injunction against the program. The Supreme Court heard arguments last month and is expected to issue a ruling in June.
DFPS is accustomed to controversy. A December 2015 ruling by U.S. District Judge Janis Graham Jack called out the department for maintaining a "broken" foster care system that overmedicates wards, shuffles them between foster homes, and doesn't document incidents of "child-on-child" sexual abuse.
Jack appointed two "special masters," a Duke University law professor and a former New Jersey child welfare czar, to oversee reforms to the system.
To Learn More:
Lawsuit Accuses Immigration Officials of Denying Applications of Abused Children (by Ryan Kocian, Courthouse News Service)
Federal Judge Orders Obama Administration to Release Children Held in Immigration Detention Centers by October 23 (by Noel Brinkerhoff and Danny Biederman, AllGov)
There's Money to be Made on Flood of Child Immigrants (by Steve Straehley, AllGov)
Majority of Americans Support Treatment of Migrant Children as Refugees, Not Illegal Immigrants (by Noel Brinkerhoff, AllGov)
Private Prison Industry Helped Create Anti-Immigrant Law in Arizona (by Noel Brinkerhoff and David Wallechinsky, AllGov)