Federal Judge Orders Obama Administration to Release Children Held in Immigration Detention Centers by October 23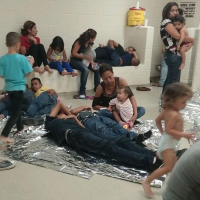 Immigrant families in U.S. detention center (photo: Congressman Henry Cuellar)
The Obama administration has been given until October 23 to comply with a federal judge's order to release immigrant children held at family detention facilities.
U.S. District Judge Dolly Gee in Los Angeles said on Friday that unless children are a danger to themselves or others, or are a flight risk, they should not be held for more than 72 hours by the government. The judge also added a new stipulation since her initial ruling last month—that parents detained with their children must also be released with them, unless they pose a risk to national security or are considered a flight risk.
Gee gave the Department of Homeland Security (DHS), which oversees the immigration system, about two months to comply with her ruling that affects about 1,400 parents and children held in facilities in Texas and Pennsylvania. The Obama administration, however, may appeal Gee's ruling to the Ninth Circuit Court of Appeals, according to the Los Angeles Times, which might delay the October 23 release.
Gee has told the administration that its detention of immigrant children violates the 1997 Flores legal settlement (pdf), which established legal requirements for housing children who are undocumented immigrants or who are seeking asylum in the U.S. She says the detention centers and temporary holding cells along the border are "deplorable" and don't "meet even the minimal standard" for "safe and sanitary" conditions. Gee's latest ruling also requires the Border Patrol to upgrade those conditions by the October deadline. She also stated that children may not be held in facilities not specifically licensed for housing minors.
DHS officials have said that the fine print within Gee's ruling allows them to continue holding children and their mothers in detention provided they continue to move detainees through the immigration process and reduce hold times to just a few weeks, according to The New York Times.
More than 68,000 people were caught crossing the U.S.-Mexico border last fiscal year, resulting in a surge of detentions by immigration authorities. Most migrant families have come to the U.S. to escape violence and abuse suffered in El Salvador, Guatemala and Honduras, according to the Times.
-Noel Brinkerhoff, Danny Biederman
To Learn More:
Judge Orders Prompt Release of Immigrant Children from Detention (by Cindy Carcamo, Los Angeles Times)
Judge Increases Pressure on U.S. to Release Migrant Families (by Julia Preston, New York Times)
Immigration Crisis Shifts From Border to Courts (by Liz Robbins, New York Times)