Hundreds of Doctors and Nurses across U.S. Charged in $900-Million Medicare Fraud Sweep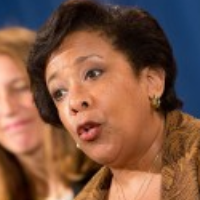 Loretta Lynch announces nation's biggest Medicare fraud bust, June 22, 2016 (photo: Allison Shelley, Getty Images)
By Gabrielle Banks, New York Times
More than 300 people across the nation - including 22 in the Houston area - have been charged with stealing more than $900 million in what federal investigators say is the "largest Medicare fraud takedown in history."
The 301 people facing criminal and civil charges of health care fraud include 61 doctors, nurses and other medical professionals, according to the Department of Justice.
Among those arrested is a veteran Houston family practitioner with offices in Brookshire and Stafford, charged with participating in a scheme to bilk Medicare for $18 million in home health care services that were not necessary or, in many cases, not provided.
"As this takedown should make clear, health care fraud is not an abstract violation or benign offense - it is a serious crime," said U.S. Attorney General Loretta Lynch, in a news release.
"The wrongdoers that we pursue in these operations seek to use public funds for private enrichment," Lynch said. "They target real people - many of them in need of significant medical care."
U.S. Attorney Ken Magidson, based in Houston, framed the operation as a battle "to combat greed in our health care system."
The U.S. Health Department's Centers for Medicare & Medicaid Services has stopped payment to many indicted providers under the Affordable Care Act, officials said.
In the Houston region, which includes South Texas, federal charges were filed in 11 separate cases following a nationwide sweep by the Justice Department's Medicare Fraud Strike Force. The Texas defendants are accused of bilking Medicare of more than $136 million.
Two local physicians were among those indicted.
Dr. John Ramirez, 62, of Houston, the family practice physician, is accused of aiding in a scheme to submit false bills to Medicare for home health care visits from 2012 to 2015.
Ramirez faces four counts of conspiracy to commit health care fraud.
Susanna Bermudez, 49, of Houston, who owned the Milten Clinic that Ramirez oversaw, faces a conspiracy charge on allegations that she sold pre-signed certifications that home health agencies could use to bill Medicare.
In a related case, Ramirez was indicted along with Houston residents Ann Sheperd, 60, the owner of Amex Medical clinic in southwest Houston, and her daughter, Yvette "Destiny" Nwoko, 27, the office manager, on charges of conspiracy and committing health care fraud by selling doctor-certified permission slips that were used to fraudulently bill Medicare.
Another local physician indicted in the federal sweep is Dr. Sohial R. Siddiqui, a Sugar Land internist from Fort Bend County, who was part-owner with co-defendant Starsky D. Bomer, of Galveston County, of three long-term acute care outpatient clinics in Houston.
Bomer, chief financial and chief operating officer of the ventures, and Siddiqui also briefly ran a general care hospital on Seymour Street in Pasadena.
Prosecutors have charged the physician and his business partner with giving and receiving kickbacks to recruiters who brought them beneficiaries or receiving kickbacks in exchange for referring these patients to outpatient services.
Along with unnamed co-conspirators, they are accused of submitting $16.9 million in fraudulent claims to Medicare for services that were not necessary or provided at the hospital and clinics.
Nurses were also among those indicted.
Registered nurse Eric Ugorji, of Fort Bend County, who ran a clinic along Southwest Freeway, is accused with unnamed co-conspirators from 2009 to April 2016 of receiving $17.1 million in Medicare payments for home health care services that weren't needed or provided.
Evelyn Mokwuah, of Harris County, a registered nurse and administrator at two clinics on Regency Square, and Amara Oparanozie, of Fort Bend County, also a registered nurse, were also charged with conspiracy and fraud for allegedly receiving $21.4 million from Medicare between January 2008 to February 2016.
An unnamed doctor also participated in the scheme, according to the indictment.
Mokwuah is charged with using a Medicare provider number and Oparanozie helped her sign records billing for home health services that were not provided or needed. Jointly, they received $21.4 million from Medicare on those claims.
In McAllen, the owner of a durable medical equipment company and six others were charged with submitted false claims to Texas Medicaid for equipment that was not provided or authorized by a physician.
The indictment says the signatures of physicians were forged on prescription forms and that the defendants paid kickbacks in exchange for patient information.
To Learn More:
Justice Dept. Busts 243 over $712 million Worth of Medicare Fraud (by Noel Brinkerhoff, AllGov)
Crackdown on Medicare Fraud Brought back $3.3 Billion in One Year (by Noel Brinkerhoff and Danny Biederman, AllGov)
8 People in L.A. Among 243 Accused by Feds of $712 Million in Medicare Fraud (by Ken Broder, AllGov California)
Nation's Worst Cancer Doctor Pleads Guilty to Medicare Fraud (by Noel Brinkerhoff, AllGov)