Fed Finds "Serious Health Threat" in Cigna Medicare Plans, Suspends New Enrollments
Saturday, January 23, 2016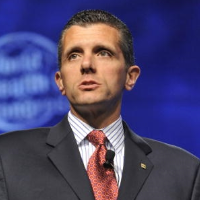 Cigna CEO David Cordani (photo: Jay Mallin, Bloomberg via Getty Images)
By Caroline Humer
(Reuters) - The U.S. government has suspended new enrollment in Cigna Corp's Medicare Advantage health insurance and prescription drug plans, saying Cigna had "widespread and systemic failures" that prevented patients from accessing medical services. The government said Cigna did not handle complaints and grievances properly from patients who had been denied coverage for health benefits or drugs, according to a Jan. 21 letter from its regulator, the Centers for Medicare and Medicaid.
Officials also found problems with its list of covered drugs and said it did not handle its requests for prior authorization and exceptions as it should have.
These deficiencies posed "a serious threat to the health and safety of Medicare beneficiaries" and followed years of noncompliance, the Centers for Medicare and Medicaid said in the letter.
Cigna said in a regulatory filing the suspension, effective immediately, does not affect members currently enrolled in the plans.
"The findings in the audit are unacceptable and will be addressed in full partnership with CMS," Herb Fritch, president of its Medicare Advantage business, Cigna-HealthSpring, said in an e-mailed statement.
"We have internal quality review processes in place that identified some of the areas in advance of the audit findings and we have already started working to remedy them. In other instances, we will implement the changes as quickly as possible," he said.
Cigna shares fell 1.2 percent to $138.50 in midday trading.
Open enrollment for 2016 Medicare Advantage plans closed in December but individuals can enroll throughout the year as they turn 65 years old or if they qualify under special circumstances.
Because open enrollment has closed, the impact on 2016 earnings is expected to be minimal, Leerink Partners analyst Ana Gupte said. Medicare Advantage contributes about 10 to 12 percent of the company's earnings, she said in a research note.
Cigna and other private health insurers manage healthcare and drug benefits for older and disabled people under the government-paid Medicare program. It is overseen by the Centers for Medicare and Medicaid Services, part of the U.S. Department of Health and Human Services. The agency has suspended other insurers in the past such as Aetna Inc. Aetna's April 2010 suspension was lifted in July 2011.
Sanctions will remain in place until Cigna makes changes and the problems are deemed unlikely to recur, according to the letter. Cigna is due to submit a corrective plan by Jan. 29.
Cigna plans to be bought by Anthem Inc in a $45 billion deal, under review by antitrust regulators.
To Learn More:
Medicare Advantage: A Goldmine for Health Insurance Companies (by Noel Brinkerhoff, AllGov)
Government Audits Reveal Health Insurance Companies Regularly Overcharge Medicare Advantage (by Steve Straehley, AllGov)
Fraudulent "Upcoding" Costs Medicare Advantage $2 Billion a Year (by Steve Straehley, AllGov)