Government Audits Reveal Health Insurance Companies Regularly Overcharge Medicare Advantage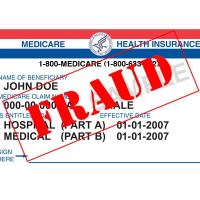 (graphic: Steve Straehley, AllGov)
Some companies running Medicare Advantage plans have been found to be systematically overcharging for their services, according to audits by Centers for Medicare and Medicaid Services (CMS).
The Center for Public Integrity sued under the Freedom of Information act to get the information on the audits, which covered five Medicare Advantage insurers. Auditors looked at 201 sets of patient records from 2007 for each company. It was found that Medicare paid the wrong amount for 654 of the 1,005 patients in the survey, with the agency paying excessive amounts in 579 cases and too little in 75 instances. The payment error was more than $3.3 million.
The audited companies were an Aetna health plan in New Jersey, Independence Blue Cross in the Philadelphia area; Lovelace Health System in Albuquerque, New Mexico, a Care Plus (Humana) plan in South Florida and PacifiCare in Washington State, part of UnitedHealthcare.
Auditors also found that "risk scores," which the government uses to calculate how much to pay an insurer per patient each year, were inflated in 800 of the 1,005 patients. That resulted in about $5,000 per patient being overpaid to insurers. In addition, about a third of the medical conditions reported for the patients could not be confirmed by auditors.
CMS has been secretive about the audits and their results, which have yet to be released.
"Medicare publishes detailed data on almost every doctor and hospital that gets paid a penny, but it leaves the public—and researchers—almost completely in the dark about the giant Medicare Advantage plans that will collect more than $150 billion from Medicare this year," David Himmelstein, a physician and professor in the CUNY School of Public Health at Hunter College, told the Center for Public Integrity.
Also not released is the reason why CMS opted not to extrapolate the results of the audits to recover the overcharges from the five companies, which were estimated at $13.5 billion in 2010. The agency moved to do that in 2008, but backed off after the insurance industry weighed in.
Now, Congress is getting involved. Sen. Claire McCaskill (D-Missouri) has been looking into Medicare Advantage, while Sen. Chuck Grassley (R-Iowa) has requested information on how many investigations of risk score calculations have been conducted.
"The public's business ought to be public, with few exceptions," Grassley, chairman of the Senate Judiciary Committee, said in a statement. "An agency shouldn't withhold internal deliberations unless there's a really good reason for it, like a risk to national security. It seems to me that a discussion of a Medicare overpayment problem and what to do about it ought to be public. What is CMS worried about disclosing and why?"
-Steve Straehley
To Learn More:
More Medicare Advantage Audits Reveal Overcharges (by Fred Schulte, Center for Public Integrity)
Audit: Feds Overpaid for Half of Patients in UnitedHealth Medicare Advantage Plan (by Fred Schulte, Center for Public Integrity)
Fraudulent "Upcoding" Costs Medicare Advantage $2 Billion a Year (by Steve Straehley, AllGov)
Overbilling by Doctors and Hospitals Costs Medicare a Billion Dollars a Year (by David Wallechinsky and Noel Brinkerhoff, AllGov)