Emission Test Manipulation was Open Secret in VW Development Unit
Saturday, January 23, 2016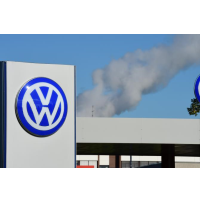 Volkswagen's headquarters in Germany (photo: John MacDougall, AFP/Getty Images)
FRANKFURT (Reuters) - Volkswagen's development of software to cheat diesel-emissions tests was an open secret in the company department striving to make its engines meet environmental standards, Germany's Sueddeutsche Zeitung newspaper said on Friday, citing results from VW's internal investigation.
Many managers and staff dealing with emissions problems in the engine-development department knew of or were involved in developing the "defeat devices", said the newspaper, which researched the matter with regional broadcasters NDR and WDR.
A culture of collective secrecy prevailed within the department, where the installation of the defeat software that would cause the carmaker's biggest ever corporate crisis was openly discussed as long ago as 2006, Sueddeutsche said.
But it said there were exceptions: a whistleblower, who was himself involved in the deception and has been giving evidence to investigators hired by Volkswagen, alerted a senior manager outside the department in 2011.
This manager, however, did not react, the newspaper said.
Volkswagen has said that to the best of its knowledge only a small circle of people knew about the manipulation, which Europe's biggest carmaker admitted to U.S. environmental authorities in September last year.
It has said it is not aware of any involvement by top management or supervisory board members in the affair, which toppled its chief executive last year and is likely to cost billions of dollars for recalls, technical fixes and lawsuits.
A Volkswagen spokesman declined to comment on Friday on what he called "speculation", saying the investigation - for which Volkswagen has hired U.S. law firm Jones Day - was continuing.
Contacted by Reuters late on Friday, Jones Day in Munich said its spokespeople had left for the day.
The Sueddeutsche Zeitung said the whistleblower was being investigated by prosecutors in Braunschweig.
Braunschweig prosecutors did not immediately return calls from Reuters late on Friday.
Volkswagen initiated an amnesty program last year for witnesses who could shed light on the scandal, promising not to fire employees who came forward with information by Nov. 30.
The carmaker plans to give the first public results of its investigation at the annual shareholders' meeting in April.
Reporting by Georgina Prodhan, Jan Schwartz and Edward Taylor
To Learn More:
Volkswagen Now Investigated for Fraud on Buyers' Environmental Tax Credits (by Steve Straehley, AllGov)
VW Emissions-Cheating Cars Added 32 Million Tons of Extra Carbon Pollutants into Atmosphere (by Noel Brinkerhoff, AllGov)
VW Cheating Scandal Repercussions Spread to Tennessee (by Noel Brinkerhoff and Steve Straehley, AllGov)
VW Programmed Diesel Cars to Cheat on Emissions Tests (by Ken Broder and Noel Brinkerhoff, AllGov)