Criminalization of Adolescent Behavior in South Carolina Schools Targeted by Justice Dept. and ACLU
Saturday, August 13, 2016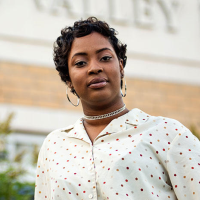 Niya Kenny (photo: ACLU)
By Seanna Adcox, Associated Press
COLUMBIA, S.C. (AP) — The South Carolina sheriff's department whose deputy tossed a student across a classroom after she refused to give up her cellphone has agreed with the U.S. Justice Department to do its part in ending what the federal agency calls a "school-to-prison pipeline."
The settlement of a civil rights review comes as the American Civil Liberties Union sued South Carolina in federal court on Thursday over what it calls the criminalization of normal adolescent misbehavior. The lawsuit (pdf) challenges the state's "disturbing schools" and "disorderly conduct" charges as unconstitutionally vague.
The sheriff of Richland County, Leon Lott, said Thursday that he agrees with the ACLU on these points. He called the "disturbing schools" charge commonly used against students a "terrible law" that has been "misused and abused."
Lott also said the agreement's requirement that officers be removed from any classroom management duty is a positive outcome from the videotaped confrontation last October at Spring Valley High in suburban Columbia.
"That's an incident we have to live with but it doesn't define us," Lott said, and the DOJ is "helping us out."
The DOJ agreement (pdf), effective Friday requires Richland County to provide intensive annual training for deputies working in more than 60 schools on how to de-escalate situations, avoid bias and interact properly with disabled students. It also requires the creation of an advisory group including students and parents, which must issue initial recommendations by Nov. 1, and the hiring of outside consultants approved by the DOJ to assist with compliance.
Lott said his nearly 90 officers in schools went through the training this summer, and an existing citizens' advisory board is being expanded to include students.
The agreement settles a civil rights review that began in May 2015, five months before the deputy's arrest of the 16-year-old girl was recorded on a video that went viral. That review was partly due to complaints and arrest patterns, according to a DOJ letter to Lott dated Wednesday.
Richland County's school resource officer program was among several under review this year, and the only one in South Carolina, according to the federal agency.
The DOJ agreement says officers should focus on criminal conduct, and that their "duties shall not include involvement in classroom management or school discipline matters that should be appropriately handled by school staff."
That echoes rules the state Board of Education initially approved Tuesday aimed at keeping school officers from being involved in ordinary student discipline. As well as responding to crimes, it says school officers should keep out intruders, act as positive role models, pair with teachers for law-related lessons and train school personnel on handling crisis situations.
A separate investigation by DOJ, the FBI and the U.S. attorney's office into whether the deputy used unlawful force against the Spring Valley High student is ongoing, federal officials said.
Last October, school officials called Deputy Ben Fields to intervene after the teenager refused to surrender her cellphone and wouldn't leave the classroom when told by a teacher and administrator. She again refused to leave, and Fields told her she was under arrest.
Two classmates recorded videos showing Fields flipping the teen out of her chair and tossing her across the room, sparking national outrage. One was recorded by Niya Kenny, an 18-year-old who also verbally challenged the officer, saying what he was doing was wrong. She was arrested as well and, like the juvenile girl, was charged with "disturbing schools."
Lott swiftly fired the officer, but 10 months later, he acknowledged the misdemeanor charges against both girls remain unresolved, exposing them to a possible 90 days in jail or $1,000 fine.
Kenny is now a plaintiff in the ACLU suit, along with several other students from other schools.
Lott said what his deputy did was wrong, but "he should've never been called in the first place. That's not our job to manage your class."
He hopes federal agreement and proposed state rules — the board of education needs to give them a second vote before sending them to legislators — will end the practice of officers being used as disciplinarians.
At the very least, Lott said, officers can now tell educators, "No, that's not our job," rather than feel obliged to intervene to avoid a bad review.
For his part, the girls' attorney, House Minority Leader Todd Rutherford, said he's confident only because "the federal government is watching ... These are not things you sign because everything is going hunky dory."
Rutherford hopes the lawsuit prompts legislators to change the "disturbing schools" law, which he called a "catch-all to ensnare" young people. Legislation to restore the 1919 law to its original intent, which was to protect students from outside agitators, was killed in the last session under pressure from the sheriffs' association.
The ACLU wants the courts to stop the state from charging students in kindergarten through 12th grade with these two crimes, and asks that any prior convictions not be used in considering any future consequences — as if they're expunged.
According to the ACLU, about 1,750 students were referred to the Department of Juvenile Justice in 2014-15 for disturbing schools; 71 percent were black. That doesn't include students older than 17 who were charged as an adult — the ACLU didn't have those figures.
"These types of adolescent behavior should never be met with arrest," said ACLU attorney Sarah Hinger.
A criminal charge in school dramatically reduces a student's likelihood of graduating and steers them toward "ongoing involvement with the criminal justice system," Hinger said.
The attorney general's office declined to comment on pending litigation.
To Learn More:
Niya Kenny, et al., v. Alan Wilson, et al. (U.S. District Court for District of South Carolina) (pdf)
Compliance Review of the Richland County Sheriff's Department (U.S. Department of Justice, Office of Civil Rights) (pdf)
Bipartisan Coalition Aims to Reduce Virginia's Role as Nation's Leader in Juvenile Arrests and Incarceration (by Noel Brinkerhoff, AllGov)
U.S. Schools Reversing Get-Tough "Zero Tolerance" Policy (by Noel Brinkerhoff, AllGov)
Thousands of Florida Students Arrested Annually for Actions that Used to Merit a Trip to the Principal's Office (by Noel Brinkerhoff, AllGov)