Bipartisan Coalition Aims to Reduce Virginia's Role as Nation's Leader in Juvenile Arrests and Incarceration
Saturday, October 03, 2015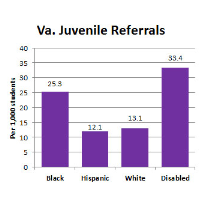 Graphic: Steve Straehley/AllGov
Liberals and conservatives in Virginia have come together to try to convince lawmakers to change policies that have made that state No. 1 in the country for juvenile arrests and incarceration.
The coalition, Rise for Youth, which consists of civil rights, religious and fiscal-reform activists, wants schools to stop using the justice system to handle minor misbehavior, and hopes to reduce the number of kids being sent to youth prisons.
Among their recommendations is to exempt children from disorderly conduct criminal codes while at school and to reform the state's mandatory felony larceny charge that must be imposed for the theft of anything worth $200 or more, even when the offenders are children.
In 2014, 34.4% of juveniles sentenced to a correctional center were there for non-person crimes, such as theft, and 11.4% were there for misdemeanor offenses, according to Juvenile Justice Reform in Virginia report (pdf).
"When such non-violent youths are incarcerated in the current system, they are removed from their family and other community support networks and the likelihood that they will recidivate soars," according to the report.
Rise for Youth is also hoping for more funding to help local governments develop alternatives to locking up lower-level juvenile offenders in large state detention centers.
"There have been some zealous zero-tolerance policies that have resulted in criminalizing everything from playground skirmishes to handcuffing fifth graders for disorderly conduct violations," Craig DeRoche, a former Republican state legislator from Michigan, who directs the Justice Fellowship, a group in the alliance, told the Center for Public Integrity.
Virginia's schools collectively had the nation's highest rate of referring students to law enforcement agencies in the country during the 2011-12 school year of 15.8 per 1,000 students. The U.S. average is 5.8 per 1,000.
-Noel Brinkerhoff
To Learn More:
Bipartisan Alliance Vows to Slow Virginia's School-to-Prison Pipeline (by Susan Ferriss, Center for Public Integrity)
A State-by-State Look at Students Referred to Law Enforcement (by Chris Zubak-Skees and Ben Wieder, Center for Public Integrity)
Juvenile Justice Reform in Virginia (Prison Fellowship Ministries, Right on Crime, and Thomas Jefferson Institute for Public Policy) (pdf)
U.S. Schools Reversing Get-Tough "Zero Tolerance" Policy (by Noel Brinkerhoff, AllGov)
Thousands of Florida Students Arrested Annually for Actions that Used to Merit a Trip to the Principal's Office (by Noel Brinkerhoff, AllGov)