Court Strikes Down Texas Voter ID Law as Discriminatory to Minorities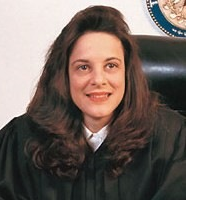 Judge Catharina Haynes
By Cameron Langford, Courthouse News Service
(CN) — Texas' voter ID law discriminates against minorities and must be revised before Election Day, the en banc Fifth Circuit affirmed Wednesday.
The ruling (pdf ) came in under the wire of a July 20 deadline that the U.S. Supreme Court set with the Nov. 8 presidential election in mind, allowing time for a lower court to propose changes to the voter ID law.
"We conclude that the district court did not clearly err in determining that SB 14 has a discriminatory effect on minorities' voting rights in violation of Section 2 of the Voting Rights Act. As discussed below, we remand for a consideration of the appropriate remedy in light of the impending general election," Judge Catharina Haynes wrote for the majority.
Haynes added, "In sum, the district court's immediate responsibility is to ensure the implementation of an interim remedy for SB 14's discriminatory effect that disrupts voter identification rules for the 2016 election season as little as possible, yet eliminates the Section 2 discriminatory effect violation."
Passed by the Republican-controlled Texas Legislature in 2011, Senate Bill 14 (pdf) requires all Texas voters to come to the polls with photo identification.
The New Orleans-based federal appeals court agreed Wednesday with U.S. District Judge Nelva Gonzales Ramos that SB 14 has a discriminatory impact on minority voter turnout because black and Latino voters are less likely to possess one of seven acceptable forms of photo ID.
It was a mixed-bag for Texas as the Fifth Circuit reversed Ramos' judgment that Texas intentionally crafted the law to disenfranchise left-leaning voters.
"To avoid disruption of the upcoming election, the district court should first focus on fashioning interim relief for the discriminatory effect violation in the months leading up to the November general election. The district court should then reevaluate the evidence relevant to discriminatory intent and determine anew whether the Legislature acted with a discriminatory intent in enacting SB 14," Haynes wrote in the 86-page majority opinion.
The majority blocked enforcement of the law and ordered Ramos to propose remedies that will make it easier for minorities to vote.
Out of deference to the Texas Legislature, the appeals court urged Ramos to keep the law largely intact. It will then decide whether to implement the proposed changes for Election Day.
Prior to SB 14's passage, the rules allowed voters to present a utility bill, bank statement, paycheck or mail from a government agency to cast a ballot.
The en banc majority advised Ramos Wednesday that simply reverting to prior rules is not sufficient.
"The opinion is stunning! It basically tells the district court how to find intent on the remand!" Texas A&M law professor Lynne Rambo said in an email to Courthouse News.
Judge Edith Jones blasted the majority for sending the discriminatory intent question back to Ramos for more vetting.
"Overwhelming evidence from the complete record...negated any racially discriminatory purpose behind SB 14," the President Ronald Reagan-nominee wrote in a partly dissenting and concurring opinion joined by four of her colleagues.
She also criticized the majority for opening the courthouse door to wide for similar challenges.
"Today's result moves us another step down the road of judicial supremacy by potentially subjecting virtually every voter regulation to litigation in federal court," Jones wrote in a 67-page dissenting opinion.
She cited "polling locations, days allowed and reasons for early voting, mail-in ballots, time limits for voter registration, language on absentee ballots, the number of vote-counting machines a county must have" as grounds for possible litigation under the majority's rationale.
Experts have testified that more than 600,000 Texans lack SB 14 photo identification, though it's unlikely all of them have tried to vote under SB 14.
Wednesday's ruling comports with tough questions Chief Judge Carl Stewart, a Bill Clinton-nominee, posed to at the en banc hearing in late May about SB 14's relatively strict standards.
Though Texas compares its voter ID laws to other states, Stewart noted that the Texas law is indeed more stringent.
"Am I missing something?" Stewart asked Texas Solicitor General Scott Keller. "You mention Georgia, Indiana, Virginia, Wisconsin ... places where they offer infinitely more options to the voter ID law than Texas."
Stewart said Virginia has 13 voter ID options, Wisconsin has 12 options, Indiana has 12 and Kansas has 17.
"Texas has seven," Stewart said.
"I'm not understanding how they are saying 'We're like Indiana, we're like Wisconsin,'" Steward said. "What is the justification?"
The chief also noted that voter fraud in Texas is attempted more often through mail-in ballots than in-person voting.
There was a also court-ordered change to Wisconsin's voter ID rules this week.
U.S. District Judge Lynn Adelman in Milwaukee on Tuesday issued an injunction that temporarily watered down the law. He ordered election officials to provide a "safety net...for those voters who cannot obtain qualifying ID with reasonable effort" for the Nov. 8 elections.
Wisconsin must let such voters execute an affidavit, explaining why they could not get an ID, to receive a ballot, Adelman ordered.
The National Conference of State Legislatures counts Texas among nine states that enforce a strict photo ID law.
Like Texas, in most of those states — North Dakota, Kansas, Arkansas, Mississippi, Indiana, Tennessee, Georgia and Virginia - voters who do not have photo ID can cast a provisional ballot, but must later submit a photo ID to election officials for their votes to count.
Rambo, the law professor, said the en banc Fifth Circuit ruling increases the chances the Supreme Court will weigh in on voter ID laws because it made a circuit split more pronounced.
The Seventh Circuit let Wisconsin enforce its voter ID law during the November 2014 elections, and the U.S. Supreme Court had refused to take up that case.
"There were dissenters who wanted the court to take it but there weren't enough to get the court to take it," Rambo said in an interview.
SB 14 has been tied up by federal rules and in federal court from the day former Texas Gov. Rick Perry signed it in May 2011.
Because of Texas' history of voter discrimination, it had to get Justice Department approval for SB 14 under the Voting Rights Act. Texas submitted its request in July 2011, but then-U.S. Attorney General Eric Holder denied the application as incomplete.
This prompted Texas to file a 2012 federal complaint against Holder in Washington, D.C., seeking a declaration that SB 14 "neither has the purpose nor will have the effect of denying or abridging the right to vote on account of race."
A three-judge panel in Washington ruled against Texas in August 2012, persuaded by the government's study showing black and Latino registered voters were almost twice as likely as their white counterparts to not have photo ID.
The ruling stopped Texas from implementing its Voter ID law for the November 2012 election, but the Supreme Court unexpectedly cleared the way for Texas to implement SB 14 with its 2013 ruling in Shelby County v. Holder when it threw out the preclearance requirements of the Voting Rights Act.
But the high court's decision did not end the legal wrangling.
A three-judge panel of the Fifth Circuit that considered the law last year unanimously agreed with Ramos that SB 14 has a discriminatory effect on minority voter turnout, in violation of Section 2 of the Voting Rights Act.
That order came so close to Election Day, however, that the Fifth Circuit kept the law in place with a stay to eliminate the chance of voter confusion.
Keller, the Texas solicitor general, emphasized at the en banc hearing that Texas issues free birth certificates to those who need one as a prerequisite to obtaining an Election Identification Certificate.
To qualify for a free Election Identification Certificate, Texans must present a birth certificate, naturalization certificate or passport to a Texas Department of Public Safety office.
But Latino-advocacy groups who oppose SB 14 said in an amicus brief that rural areas along the U.S.-Mexico border with many Latino voters have just a handful of Department of Public Safety offices.
They added that the few DPS offices there are have limited hours, making access difficult for Latinos, many of whom have low-paying jobs that don't permit sick leave or other paid leave.
Chief Judge Stewart agreed during the en banc hearing, citing evidence that just 88 of 254 Texas counties have offices that can issue birth certificates, a figure Keller disputed.
In a statement Wednesday, U.S. Attorney General Loretta Lynch said she is "pleased" with the Fifth Circuit ruling.
"This decision affirms our position that Texas's highly restrictive voter ID law abridges the right to vote on account of race or color and orders appropriate relief before yet another election passes," Lynch said.
To Learn More:
Marc Veasey, et al., v. Greg Abbott, et al. (U.S. Court of Appeals for the Fifth Circuit) (pdf)
Supreme Court Fails to Halt "Discriminatory" Texas Voter ID Law (by Mark Sherman, Associated Press)
Federal Court Strikes Down Texas Voter ID Law as Discriminatory (by Noel Brinkerhoff, AllGov)
Texas Judge Strikes Down Voter ID Law in 150-Page Ruling That Recounts State's History of Discrimination (by Steve Straehley, AllGov)
Federal Courts Versus Republican Efforts to Limit Voting: Texas (by Noel Brinkerhoff, AllGov)
Federal Judges Reject Texas Redistricting as Anti-Minority (by Noel Brinkerhoff and David Wallechinsky, AllGov)