Federal Judges Reject Texas Redistricting as Anti-Minority
Thursday, August 30, 2012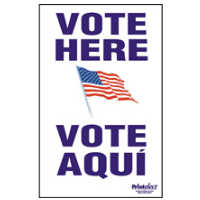 (graphic: Printelect.com)
Texas' new legislative and congressional boundaries violated the Voting Rights Act, according to a federal appeals court that reviewed the state's redistricting plan.
A three-judge panel from the U.S. District Court for the District of Columbia concluded that the new districts weakened the political clout of minorities who were the reason why Texas grew in population and gained more seats in Congress. Republican lawmakers, who control the state legislature, reshaped boundaries in a way that discriminated against minorities, the judges ruled.
Texas is one of nine states which, as a result of a history of racial discrimination, were covered in whole or in part by the Voting Rights Act of 1965's requirement that redistricting be precleared by a federal judicial panel.
The decision will not change the districts before the November elections because the "political parties have already chosen their nominees under interim plans drawn by a different federal court," The Washington Post reported.
Following the 2010 census, Texas received four additional congressional districts as a result of the state's population growing by more than four million people.
Latinos accounted for 65% of the increase, blacks 13.4% and Asian-Americans 10.1%. Latino make up 38% of Texas' population, but only 25% of registered voters.
-Noel Brinkerhoff, David Wallechinsky
To Learn More:
Texas Redistricting Discriminates Against Minorities, Federal Court Says (by Robert Barnes, Washington Post)
Court: Texas Political Maps Don't Protect Minority Vote (by Ross Ramsey, Texas Tribune)
Three New District Maps in Texas Hurt Minorities (by Bonnie Barron, Courthouse News)
State of Texas v. United States (U.S> District Court for the District of Columbia) (pdf)
Texas Latinos: 1/3 of Population, 1/4 Majority Districts, 1/7 of Congressional Seats (by Noel Brinkerhoff, AllGov)