Federal Court Strikes Down Texas Voter ID Law as Discriminatory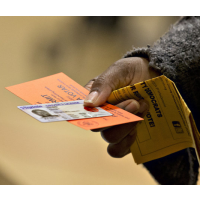 (photo: J. Scott Applewhite, AP)
One of the more conservative federal appeals courts has struck down Texas' voter ID law, agreeing with a lower court ruling that the law discriminates against minorities.
A panel of judges from the Fifth Circuit Court of Appeals based in New Orleans agreed with U.S. District Judge Nelva Gonzales Ramos, who imposed an injunction on SB 14 last year.
Ramos blocked the law because, she said, it "will disproportionately impact low-income Texans" by mandating they show one of seven kinds of photo identifications at polling places before voting. Because poor Texans are often minorities, Ramos concluded the law is discriminatory.
The circuit panel of three judges backed the discriminatory assessment, but rejected Ramos' finding that the Republican-led legislature intentionally tried to keep minorities from voting.
The circuit ruling (pdf), written by Judge Catharina Haynes, said "SB 14 disproportionately impacts Hispanic and African-American voters" in violation of the Voting Rights Act. Haynes cited an analysis that "revealed that Hispanic registered voters
and black registered voters were respectively 195% and 305% more likely than their Anglo peers to lack SB 14 ID," she wrote.
The ruling is "great news for voters in Texas and for the country," Wendy R. Weiser, the director of the democracy program at the Brennan Center for Justice at New York University School of Law, told The New York Times. "It does show the continuing relevance of the Voting Rights Act even in its weakened form," said Weiser, whose organization helped represent some of the plaintiffs. "But it's bittersweet because we've now gone through a federal election with this discriminatory voting law in place."
Haynes was appointed to the circuit by President George W. Bush, which could be important if Texas appeals the ruling to the full circuit.
"The fact that Haynes agreed that the law is problematic should help supporters of voting rights if Texas seeks full court review, but it is no guarantee that a majority of the Fifth Circuit will agree with her," ThinkProgress reported. "And, even if Haynes's conclusion survives contact with the full Fifth Circuit, this case is reasonably likely to be reviewed by a Supreme Court that's shown skepticism of voting rights claims generally and of the Voting Rights Act in particular," it added.
-Noel Brinkerhoff
To Learn More:
Texas Voter ID Law Discriminates Against Minorities, 5th Circ. Rules (by Cameron Langford, Courthouse News Service)
Federal Appeals Court Strikes Down Texas's Voter ID Law (by Ian Millhiser, ThinkProgress)
Texas ID Law Called Breach of Voting Rights Act (by Erik Eckholm, New York Times)
Marc Veasey, et al, v. State of Texas, et al (U.S. Court of Appeals for the Fifth Circuit) (pdf)
Texas Judge Strikes down Voter ID Law in 150-Page Ruling That Recounts State's History of Discrimination (by Steve Straehley, AllGov)
Federal Judges Reject Texas Redistricting as Anti-Minority (by Noel Brinkerhoff and David Wallechinsky, AllGov)