Court-Ordered Word Added to New Texas Voting Rules is spliced into Statewide Voter ID Ads
Tuesday, October 18, 2016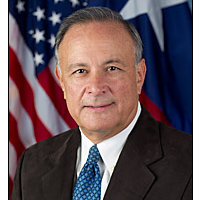 Texas Secretary of State Carlos Cascos
By Jonathan Tilove, New York Times
AUSTIN, Texas -- Texas has launched its statewide voter ID television and radio ad campaign, after about a week's delay so that Secretary of State Carlos Cascos could go into the studio to utter the single word "reasonably," and have it spliced into the original ad.
The addition of the adverb was demanded by Justice Department officials and civil rights plaintiffs and ordered last month by U.S. District Judge Nelva Gonzales Ramos in Corpus Christi.
Ramos is responsible for establishing acceptable voter identification rules for this year's election after the 5th U.S. Circuit Court of Appeals ruled that the Texas voter ID law, enacted in 2011, discriminated against minority voters. Ramos also has been asked to determine whether the law was enacted with the discriminatory intent of suppressing minority turnout.
Attorney Chad Dunn of Houston, representing several of the plaintiffs, said they had reviewed and approved the new version of the ad.
Alicia Pierce, a spokeswoman for Cascos' office, said the $1.3 million radio and TV ad buy -- complemented by public service ads and some print and online advertising -- will be seen or heard in all 254 counties, and that the office hopes to reach as many people as originally envisioned despite the delayed start. The radio ads began airing Wednesday and the TV ads launched Thursday.
In the uptempo ad, which on TV features images of Texans holding up various forms of acceptable ID in landmark Texas locations, Cascos says, "It's voting season in Texas, so we remind voters to show ID when they go to the polls. If you've been voting with an approved photo ID like your Texas driver license, keep that up. If you can't reasonably obtain an approved ID, now you can sign a form explaining why and show an approved document like a utility bill."
The original version of the ad, produced for the state by the public relations firm Burson-Marsteller, didn't include the word "reasonably," and the plaintiffs claimed, and the judge agreed, that absent that word, the ads made meeting the state's new ID requirement seem more onerous than it actually is or should be.
Without the word "reasonably," they contended, a potential voter could think that they had to have done everything humanly possible -- no matter the trouble or difficulty -- to get one of the approved forms of ID allowed under the original law, before they could sign the declaration and use an alternative form of ID.
So while Texas Attorney General Ken Paxton, who defended the 2011 voter ID law in court, said on Fox News last month, "If you sign that affidavit and you lie about not being able to get a photo ID, you can be prosecuted for perjury," Cascos has noted in his voter ID training that election officials can't challenge a voter who arrives at the polls, signs the declaration and offers an acceptable alternative ID.
Under the revised rules, such alternative IDs include a certified copy of a birth certificate, voter registration card, paycheck, utility bill, bank statement, government document or an expired driver license or Texas ID card, if it didn't expire more than four years ago.
There are English-language and Spanish-language versions of the ad.
"These ads serve as a big push in our Vote Texas campaign to inform all Texas voters, in both English and Spanish, about what they need to take with them when they vote in person," said Cascos, who is traveling the state through Election Day, talking to Texans in English and Spanish.
Early voting for the Nov. 8 election begins Oct. 24 and ends Nov. 4.
Voters with questions about how to cast a ballot can call 1-800-252-VOTE or visit www.VoteTexas.gov. Texans also can join the #VoteTexas conversation by following Vote Texas on its Facebook, Twitter and Instagram social platforms.
To Learn More:
Court Strikes Down Texas Voter ID Law as Discriminatory to Minorities (by Cameron Langford, Courthouse News Service)
Supreme Court Fails to Halt "Discriminatory" Texas Voter ID Law (by Mark Sherman, Associated Press)
Federal Court Strikes Down Texas Voter ID Law as Discriminatory (by Noel Brinkerhoff, AllGov)
Texas Judge Strikes Down Voter ID Law in 150-Page Ruling That Recounts State's History of Discrimination (by Steve Straehley, AllGov)
Federal Courts Versus Republican Efforts to Limit Voting: Texas (by Noel Brinkerhoff, AllGov)
Federal Judges Reject Texas Redistricting as Anti-Minority (by Noel Brinkerhoff and David Wallechinsky, AllGov)