Kuwait Moves Annual Washington Party to Trump's Hotel, Underscoring Ongoing Trump Business Conflicts
Wednesday, December 21, 2016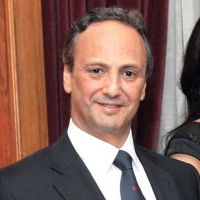 Salem Al Sabah (photo: Kuwait-America Foundation)
By Bradley Klapper, Associated Press
WASHINGTON (AP) — One of the Middle East's richest nations said Tuesday it would host its annual Washington party at Donald Trump's new hotel, underscoring the president-elect's unusual status as the owner of a major venue for events in the U.S. capital.
Salem Al Sabah, Kuwait's ambassador to the U.S., said the party would take place Feb. 25, adding that he hopes guests like the "new hotel in town." He said no one pressed him to move the Kuwaiti National Day event from its regular venue at the Four Seasons. Although Kuwait did not have a contract with the Four Seasons for the party, the date had been set aside for it to possibly take place there.
"I do not know President-elect Trump," the ambassador told The Associated Press in a telephone interview. "I do not know any of his people. None of his people have contacted me." He added: "I thought would be exciting for our guests to see a new venue. It looks great. It looks cool. So let's do it."
Al Sabah noted that last year's reception occurred at the Newseum, a museum promoting the media.
Nevertheless, the move to Trump's $200-million renovation of the Old Post Office Pavilion could reinforce questions raised about the incoming president's possible conflicts of interest. House Democrats already have warned that they'll make the splashy hotel a headache for Trump if he doesn't dump his ownership stake before taking office Jan. 20. Trump has a six-decade lease on the property.
The Trump Organization is moving to remove thorny overseas relationships, canceling hotel licensing deals in Azerbaijan, neighboring Georgia and Brazil.
Al Sabah ridiculed the notion that he would choose the D.C. hotel to curry favor with the next administration.
"We have very deep economic, military and cultural ties; we've had tens of thousands of American troops in our country," he said, noting Kuwait's basing of forces for U.S. operations in Afghanistan and to fight the Islamic State group. "You think a two-hour reception in a ballroom does that?"
To Learn More:
Trump D.C. Hotel Bookings by Foreign Envoys and Special Interest Groups Raise Alarm among Ethics Experts (by Bernard Condon, Associated Press)
Constitutional Violations of Trump's Foreign Business Dealings May Never Be Known Due to Limited Disclosure Rules (by Derek Kravitz, ProPublica)
5 Trump Business Ties that Pose Conflicts for the President-Elect (by Bernard Condon, Associated Press)
With No Ethics Rules Binding U.S. Presidents, Trump Business Ventures Put Conflicts of Interest at High Risk (by Bernard Condon, Associated Press)