Loopholes in U.S. Laws Allow Trafficking in Sacred Tribal Artifacts
Wednesday, October 19, 2016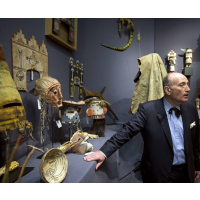 EVE auction house owner Alain Leroy with tribal masks allegedly stolen from Hopi tribe of Arizona (photo: Joel Saget, Agence France-Presse/Getty Images)
By Mary Hudetz, Associated Press
ALBUQUERQUE, N.M. (AP) — A diplomatic push for the return of Native American ceremonial objects from auction houses in Paris has been hampered by loopholes in U.S. laws that authorities and lawmakers say prohibit the trafficking of the federally protected items domestically but don't explicitly ban dealers from exporting them to foreign markets.
The comments from U.S. Sens. Tom Udall and Martin Heinrich, both New Mexico Democrats, came Tuesday before a field hearing in Albuquerque, where tribal leaders and representatives of several federal agencies — including the U.S. State, Interior and Justice departments — testified that a growing international market for ceremonial objects that include masks and shields has made it difficult for tribes to track and repatriate stolen items.
"They are not pieces of art. They are spiritual objects deeply important for tribal identity," Udall said. "Theft not only robs the tribes of a sacred object, it robs them of a piece of their spiritual identity."
French officials have told the Obama administration that they often are unable to intervene in numerous auction house sales of the items at the request of the United States because American laws fall short of making it a crime to send the objects overseas, the senators said.
Both are co-sponsors of legislation that would prohibit dealers from exporting the federally protected tribal items and double the prison time to 10 years for violating a statute that criminalizes stealing or unlawfully removing tribal objects from reservations.
A U.S. State Department official said French and American authorities will meet at the end of the month to discuss the issue.
"We have a very close partnership with the French," Mark Taplin, a principal deputy assistant secretary within the U.S. Department of State who testified at the field hearing told The Associated Press. "This is one of the relatively few areas where we need to work on finding an agreement."
The Paris auctions have presented a diplomatic dilemma for years between the United States and France. The upcoming bilateral talks between the two countries, and the proposed legislation come as Acoma Pueblo in western New Mexico awaits word on whether a ceremonial shield that was set for auction in May will be returned.
EVE auction house in Paris halted the planned sale of the shield after facing immense pressure from top U.S. officials — including Interior Secretary Sally Jewell — and pueblo leaders, who produced an affidavit alleging the shield had been taken during a break-in from an elder's Acoma Pueblo home.
The centuries-old village sits atop a mesa west of Albuquerque.
Heinrich's bill has been met with criticism from collectors who question how U.S. authorities will determine which tribal objects represent sacred ceremonial items. Gregory Schaaf, a historian and retired Native American Studies professor, testified that more criminal penalties for the trafficking of Native American objects may lead some collectors to dispose of the items rather than return them to tribes, even though the proposed legislation allows for an amnesty period for collectors to return federally protect items.
"In order to make these sacred objects come home, you have to think from the perspective of other people from other cultures," he told tribal leaders during the hearing. "You have to think from the perspective of the collector themselves."
He presented leaders from Isleta and Acoma pueblos and the Navajo Nation with sealed boxes that he said contained objects considered sacred by each of the tribes.
Tribal officials expressed offense at the move, saying the hearing was not the time or place for returning sacred items. They did not confirm whether the boxes, in fact, contained sacred items before a Bureau of Indian Affairs agent collected them, saying they were "evidence."
"We practice our culture and use these items," said Gov. Kurt Riley of Acoma Pueblo. "For someone else to tell us what is sacred and what is not, is inappropriate."
To Learn More:
Native American Tribe Sues Town for Disposing of Ancestral Bones as "Free Dirt" (by Noel Brinkerhoff, AllGov)