Secretary of the Interior: Who Is Sally Jewell?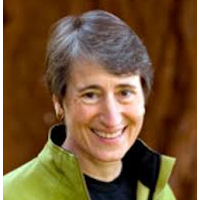 President Barack Obama has nominated a new leader for the Department of the Interior—the cabinet-level agency that focuses on conservation and use of federal lands, balancing the preservation of natural wonders with the economic development of public lands. Nominated on February 6, 2013, Sally Jewell is an avid outdoorswoman who has spent her career in the private sector. If confirmed, Jewell will succeed Ken Salazar, who has served since January 20, 2009.
Born in 1955 in England, Jewell is the daughter of Anne (née Murphy), a nurse, midwife and nurse practitioner for 60 years, and Peter Roffey, an anesthesiologist who moved the family to Seattle, Washington, when Sally was four to work at the University of Washington. Sally Jewell graduated in 1973 from Renton High School, and earned a B.S. in mechanical engineering in 1978 at the University of Washington.
Although she worked for Mobil Oil in Oklahoma from 1978 through 1981, Jewell spent twenty years of her career in the banking industry. In 1981, she joined Rainier Bank, which was hiring engineers to advise on lending to oil companies, and stayed after Rainier was acquired by Security Pacific Bank until 1992, when it was acquired by Bank of America. At Security Pacific, Jewell ran the bank's business-banking activities. Jewell worked for WestOne Bank from 1992 to 1995 and for Washington Mutual from 1995 to 2000.
While at Washington Mutual, Jewell joined the board of outdoor products retailer REI, the nation's largest consumer cooperative, in 1996. In 2000, the board hired her to be REI's chief operating officer, and in 2005 she succeeded Dennis Madsen as chief executive officer. Jewell has promoted green policies at REI, which uses energy-efficient building materials, buys renewable energy, and offsets the carbon emissions from store-sponsored travel-adventure packages by buying "green tags," which subsidize alternative energy in developing countries.
Jewell has sat on the boards of Premera, the National Parks Conservation Association, and the University of Washington Board of Regents. She is also a founding board member and immediate past president of the Mountains to Sound Greenway Trust.
Jewell is a lifelong lover of the outdoors, whose father became an REI member shortly after moving to Seattle and took the family on many camping trips, the first of them to Mount Rainier National Park. She has climbed Vinson Massif (elev.: 16,050 ft.) the highest mountain in Antarctica.
Jewell, who resides in Seattle, is married to Warren Jewell, also an engineer, with whom she has two adult children. A lifelong Democrat, Jewell has made political donations totaling $40,800 since 2006, 44% of it to two trade associations—the Outdoor Industry Association ($11,500) and the Retail Industry Leaders Association ($6,500). The remainder went overwhelmingly to Democratic candidates and causes, including $2,300 to Barack Obama's 2008 presidential campaign, $4,800 to Sen. Patty Murray (D-Washington), $2,000 to Sen. Maria Cantwell (D-Washington), and $900 to the Democratic Senatorial Campaign Committee in 2012. Her only donations to Republicans have been $1,000 to Rep. Dave Reichert (R-Washington) and $500 to Sen. Lisa Murkowski's 2009 re-election campaign.
-Matt Bewig
To Learn More:
A Profile of REI's Sally Jewell: Team player at her Peak (by Monica Soto Ouchi, Seattle Times)
Executive Q & A: Sally Jewell, President and CEO of REI (by Leslie D. Helm, Seattle Business)
Sally Jewell, CEO of Outdoor Retailer REI, Nominated for Interior Secretary (by Danica Zupic, Wildlife Society News)