Fox News Monthly Election Coverage: 666 Minutes for GOP Candidates, 13 Minutes for Dems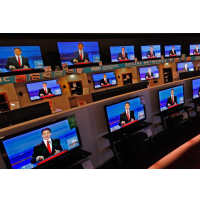 Republican presidential candidate on Fox News (photo: Chip Somodevilla, Getty Images)
By David Bauder, AP Television Writer
NEW YORK (AP) — Anyone who used Fox News Channel's prime-time lineup as their main source of campaign news over the past month may be forgiven for thinking there was only one presidential nomination contest.
Fox spent 666 minutes interviewing Republican candidates for president or their surrogates, with 13 minutes on Democrats Hillary Clinton and Bernie Sanders, according to the Media Research Center, a conservative media watchdog. The group tallied the number of minutes guests spoke or were questioned weeknights from 7 p.m. to 11 p.m. ET on March 21 through April 15.
During the same period, CNN spent 729 minutes with remaining Republicans Donald Trump, Ted Cruz, John Kasich or their representatives. Democrats had 326 minutes, including last Thursday's debate in Brooklyn, the group said on Tuesday.
Fueled by Trump fascination, the Republican race in general has gotten more coverage. With ratings soaring, the news networks frequently have candidates on for "town hall"-style interviews: each Republican appeared with family members on three successive nights on CNN last week.
Fox no doubt believes that its audience, dominated by Republicans, is more interested in the GOP campaign, said Rich Noyes of the MRC. For example, Sean Hannity's show had no Democratic candidates or surrogates on during the month-long period, the group said. A 2012 study by the Pew Research Center found that 78 percent of Hannity's audience identified themselves as conservative, and 5 percent as liberal.
For the same reason, two candidates seeking the votes of fellow Democrats would have little incentive to speak to that type of audience.
Fox has repeatedly been rebuffed in efforts to host Democrats for debates, network spokeswoman Dana Klinghoffer said. Sanders and Clinton both appeared at a Fox town hall hosted by Bret Baier on March 7, before the period the MRC counted.
The advocacy group did not include party members not affiliated with a particular campaign or straight news coverage in its calculations.
MSNBC, which has a left-leaning lineup at night, talked to Democrats or their representatives for 296 minutes in prime time, with 246 minutes for Republicans, the study said.
To Learn More:
Network Newscasts Were All-Trump, All the Time In 2015 (by Eric Boehlert, Media Matters for America)
More Americans Support Bernie Sanders than Donald Trump, but Trump Gets 23 Times as much TV Coverage (by Noel Brinkerhoff and Steve Straehley, AllGov)
Fox News Tries to Hijack Republican Primary; Pushes Trump Most, Followed by Huckabee, Perry and Jindal (by Noel Brinkerhoff and Steve Straehley, AllGov)