Fox News Tries to Hijack Republican Primary; Pushes Trump Most, Followed by Huckabee, Perry and Jindal
Wednesday, August 19, 2015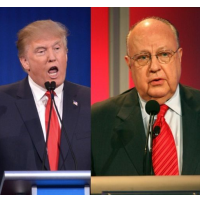 Donald Trump, Fox News chief Roger Ailes (photos: Mandel Ngan, AFP/Getty; Frederick M. Brown, Getty)
Donald Trump has a friend in Fox News, which has provided the controversial Republican candidate for president with far more airtime than any other GOP candidate.
According to the liberal watchdog Media Matters for America, Trump was on Fox News network a combined four hours and 45 minutes from May 1 through July 31. In second place, and a distant one at that, was former Fox News host and ex-Arkansas Governor Mike Huckabee, who appeared for three hours and 21 minutes.
Huckabee was followed by former Texas Governor Rick Perry (three hours and 12 minutes), Louisiana Governor Bobby Jindal (three hours and eight minutes) and former Hewlett-Packard CEO Carly Fiorina (two hours and 47 minutes). Former Florida Governor Jeb Bush, the onetime GOP frontrunner, got only one hour and 44 minutes.
Trump's "constant presence on Fox News has likely aided his rise to first place in Republican primary polls," Ben Dimiero and Rob Savillo wrote at Media Matters for America. Fox News, which has been accused of trying to usurp the Republican primary process, "has caused a rift among conservative media figures, including within Fox News," Dimiero and Savillo wrote. "Last month, New York magazine reported that Rupert Murdoch had asked Fox News head Roger Ailes to have the network 'back off the Trump coverage,' which Ailes refused to do."
Fox News hosted the first Republican presidential debate earlier this month and set the ground rules for which 10 of the GOP hopefuls would be allowed to appear. The criteria involved candidates' standing in several national polls. It's probably not coincidental that the way to increase recognition among likely Republican voters is to appear on Fox News, either on its programming or in advertisements shown there.
Trump insulted Fox News debate moderator Megyn Kelly during the debate, which started a feud between the billionaire and the network. Not even that could keep Fox from showing its love for Trump, however. Trump and Ailes made up in a phone call, with Trump tweeting shortly thereafter: "Roger Ailes just called. He is a great guy & assures me that 'Trump' will be treated fairly on @FoxNews. His word is always good!" Shortly thereafter, Trump was welcomed back onto Fox News shows.
-Noel Brinkerhoff, Steve Straehley
To Learn More:
The Fox News Primary For July: Trump Holds Commanding Lead (by Ben Dimiero and Rob Savillo, Media Matters for America)
How Fox News And Donald Trump Ate The Republican Primary (by Eric Boehlert, Media Matters for America)
Republican Presidential Candidates Battle to Outdo Each Other in Opposing Women's Issues (by Steve Straehley, AllGov)