Dialysis Company DaVita Leads List of Companies Caught for Committing Fraud against U.S. Government
Friday, December 25, 2015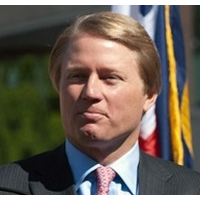 DaVita CEO Kent J. Thiry (AP photo)
Dialysis provider DaVita Healthcare Partners was forced to pay $800 million this year to settle fraud cases brought by the Justice Department.
Using the False Claims Act and other federal laws, the Justice Department in 2015 went after DaVita and other corporations accused of defrauding the government. The companies were forced to pay a combined $3.5 billion in settlements and judgements, according to a statement from the Department of Justice.
DaVita, the leading provider of dialysis services in the United States, agreed to pay two of the largest settlements: $450 million to resolve allegations that it knowingly generated unnecessary waste in administering the drugs Zemplar and Venofer to dialysis patients and billed the government for costs that could have been avoided; and $350 million for paying kickbacks to physicians to induce patient referrals to its clinics.
Another major settlement was reached with First Tennessee Bank N.A., which agreed to pay $212.5 million because its subsidiary, First Horizon Home Loans Corporation, originated and endorsed mortgages for federal insurance by the Federal Housing Administration that did not meet eligibility requirements.
Using the Stark Law, which prohibits certain financial relationships between hospitals and doctors that could improperly influence patient referrals, prosecutors went after several hospitals for filing false claims: Adventist Health System ($115 million); North Broward Hospital District ($69.5 million); and Georgia hospital system Columbus Regional Healthcare System and Dr. Andrew Pippas for $25 million plus contingent payments up to an additional $10 million.
The list also included pharmaceutical companies, such as Daiichi Sankyo Inc., which paid $39 million to resolve allegations of false claims against the U.S. and state Medicaid programs. Also, AstraZeneca LP and Cephalon Inc. paid $26.7 million and $4.3 million, respectively, in separate settlements for allegedly underpaying rebates owed under the Medicaid Drug Rebate Program. The two drug makers agreed to pay an additional $23 million to state Medicaid programs for their losses.
Defense contractors were also prosecuted. Dubai-based Supreme Group B.V. and several of its subsidiaries agreed to pay $146 million for alleged false claims to the Department of Defense for food, water, fuel, and transportation of cargo for American soldiers in Afghanistan. In addition, Swiss-based Supreme Group affiliates Supreme Foodservice GmbH, and Supreme Foodservice FZE, a privately-held UAE company, pleaded guilty to related criminal violations and paid more than $288 million in criminal fines.
-Noel Brinkerhoff
To Learn More:
Justice Department Recovers Over $3.5 Billion from False Claims Act Cases in Fiscal Year 2015 (U.S. Department of Justice)
Federal Fraud Recoveries Drop More than 38 Percent (by Neil Gordon, Project On Government Oversight)
Record False Claims Settlement in a Case not Supported by Justice Dept. (by Noel Brinkerhoff and Steve Straehley, AllGov)