Immigrant Detention Breaks up Families, Enriches Private Prison Companies
Friday, September 11, 2015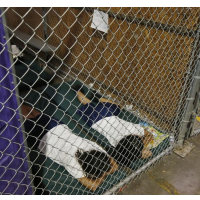 Two young immigrant girls in a Texas holding cell (photo: Ross D. Franklin, AP)
The massive influx of Central American immigrants last year along the southwest border resulted in the breakup of families and a boost in profits for a leading private prison company.
Among the thousands of people who tried entering the U.S. in 2014 were numerous families that the immigration system was not equipped to handle. Before last year, the U.S. had only 90 beds or fewer in facilities designated for the detention of families, the Daily Beast reported.
"There was no family detention in the United States, practically, a year and a half ago," Antonio Ginatta, the U.S. advocacy director for Human Rights Watch, told Daily Beast. "And now we're in the thousands."
So the government turned to Corrections Corporation of America (CCA), a for-profit prison operator that runs the South Texas Family Residential Center in Dilley. The 2,400-bed immigrant detention center became the holding facility for undocumented mothers and young children.
In taking on these families, CCA managed to significantly increase its revenues through its contracting with U.S. Immigration and Customs Enforcement. The company's financial report for the second quarter of 2015 showed revenues were about $49 million higher than it was in the second quarter of 2014, according to Betty Woodruff at the Daily Beast.
"The increase in revenue was primarily attributable to the operational ramp of our South Texas Family Residential Center, which generated approximately $65.9 million in revenue during the second quarter of 2015," notes the quarterly report, as well as being due to new inmates in Arizona and Colorado, Woodruff wrote.
The boost in business came despite the fact CCA lost a prison contract in Idaho after the Federal Bureau of Investigation started investigating one of the company's facilities for understaffing and defrauding the state, according to Woodruff. She also noted that CCA has "been dogged by allegations of maltreatment, neglect, and abuse—as if the practice of detaining toddlers wasn't controversial enough."
Human rights activists have been highly critical of the open-ended detention of families. The practice "causes permanent harm to the physical and mental health of young children, compounding the trauma they have experienced in their home countries," according to a statement issued by faculty members at the University of Texas.
"In just one year, these investment companies have profited millions off of the illegal detention of children and babies fleeing unthinkable harm in Central America," immigration attorney Bryan Johnson told The Daily Beast. "Because these companies wanted a bigger quarterly dividend, dozens of children, including some of my clients, were denied medical treatment to such a shocking degree that their lives were put at imminent risk of death or serious bodily harm."
Compounding the suffering—from the atmosphere of violence in their home country from which they fled, to the forced detention that greets them on arrival in the U.S.—is a policy that breaks up the families once they are rounded up and sequestered. The detention itself, and the separating of parents from their children and each other, has been acknowledged as a tool employed by the U.S. government to deter others from entering the country illegally in the future. It is a practice that judges in immigration legal cases have demanded be stopped. In one case this year, Judge James E. Boasberg ordered the Obama administration to cease detaining immigrants solely "for the purpose of deterring future immigration." In another case, Judge Dolly Gee demanded that the government produce a plan to release families without delay from detention facilities that she described as "deplorable" and neither "safe [nor] sanitary."
"They are using the mothers and the children … to make people afraid," Jorge Ramirez told the Los Angeles Times. After arriving in the U.S. from Honduras, he and two of his children were not allowed to communicate with his wife and their two other kids. "The family needs to be united. We're fleeing violence in our countries. Let us live with our children."
-Danny Biederman, Noel Brinkerhoff
To Learn More:
Prison Gets Rich Locking Up Preschoolers (by Betty Woodruff, Daily Beast)
Immigration: Are Male Detainees Treated Differently than Women? (by Molly Hennessy-Fiske, Los Angeles Times)
Federal Judge Blasts Obama Administration for Refusing to Release Detained Children and Mothers despite 1997 Court Settlement (by Noel Brinkerhoff and Danny Biederman, AllGov)
Putting Immigrants in Prison is Profitable…if You're the Corporations CCA and GEO (by Noel Brinkerhoff, AllGov)
Federal Judge Orders Obama Administration to Stop Automatically Detaining Women and Children Seeking Asylum (by Noel Brinkerhoff and Danny Biederman, AllGov)