Putting Immigrants in Prison is Profitable…if You're the Corporations CCA and GEO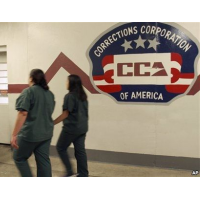 Immigrant detainees at a Corrections Corporation of America immigration facility in Taylor, Texas (AP photo)
Detaining tens of thousands of immigrants each day in the United States has been good for the bottom line of two private prison operators: Corrections Corporation of America (CCA) and GEO Group.
The two companies are responsible for imprisoning the majority of the 34,000 immigrants who must be locked up daily, per a federal quota established by Congress five years ago. CCA and GEO operate eight of the 10 largest immigrant detention centers and 72% of the privately contracted federal immigrant detention beds, according to a report from Grassroots Leadership.
Since lawmakers established the immigrant detention quota in 2010, CCA and GEO together expanded their share of the total immigrant detention system from 37% in the first year to 45% in 2014. GEO Group, alone, increased its share of the total immigrant detention system from 15% in 2010 to 25% in 2014.
This expanded share resulted in more profits overall for both companies. CCA's profits went from $133 million in 2007 to $195 million last year. GEO's profit total jump was even greater, from $41.8 million eight years ago to $143.8 million in 2014—a 244% increase, the report said.
-Noel Brinkerhoff
To Learn More:
Payoff: How Congress Ensures Private Prison Profit with an Immigrant Detention Quota (Bethany Carson and Eleana Diaz, Grassroots Leadership)
Millions Spent Lobbying By Private Prison Corporations To Keep A Quota Of Arrested Immigrants, Report Says (by Esther Yu-Shi Lee, ThinkProgress)
Immigrant Detention Bed Quotas Cost Taxpayers, Profit Private Prison Companies (by Noel Brinkerhoff, AllGov)
Private Prisons Punish States for not Having Enough Prisoners (by Matt Bewig, AllGov)
Private Prison Industry Helped Create Anti-Immigrant Law in Arizona (by Noel Brinkerhoff and David Wallechinsky, AllGov)