Justice Dept. Busts 243 over $712 million Worth of Medicare Fraud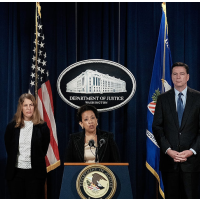 HHS Secretary Sylvia Burwell, Attorney General Loretta Lynch and FBI Director James Comey announce fraud bust (photo: T.J. Kirkpatrick, Getty Images)
A federal task force focused on Medicare fraud has resulted in more than 240 people charged for allegedly scheming to bilk the federal government out of $712 million.
The U.S. Department of Justice (DOJ) and the Department of Health and Human Services (HHS) announced last week that federal agents operating under the Medicare Fraud Strike Force in 17 districts across the country charged 243 individuals, including 46 doctors, nurses and other licensed medical professionals, for defrauding Medicare.
The "coordinated takedown" was the "largest in Strike Force history, both in terms of the number of defendants charged and loss amount," the DOJ announced.
Attorney General Loretta Lynch said the doctors, patient recruiters, home health care providers, pharmacy owners, and others "billed for equipment that wasn't provided, for care that wasn't needed, and for services that weren't rendered." The charges include conspiracy to commit health care fraud, violations of the anti-kickback statutes, money laundering and aggravated identity theft.
Many of the schemes involved patient recruiters, Medicare beneficiaries and other co-conspirators who received kickbacks in return for supplying beneficiary information to providers, who then submitted fraudulent bills to Medicare for services that were medically unnecessary or never performed, according to the Justice Department.
In Miami alone, 73 defendants were charged with offenses relating to $263 million in false billings. Charges were also brought against individuals in Houston, Dallas, Los Angeles, Detroit, Brooklyn, New Orleans and other cities.
Since Strike Force operations were launched in 2007, more than 2,300 people have been charged for collectively fraudulently billing Medicare in excess of $7 billion.
-Noel Brinkerhoff
To Learn More:
National Medicare Fraud Takedown Results in Charges against 243 Individuals for Approximately $712 Million in False Billing (U.S. Department of Justice)
Documents and Resources from the June 18, 2015 Medicare Fraud Strike Force Press Conference (U.S. Department of Justice)
Crackdown on Medicare Fraud Brought back $3.3 Billion in One Year (by Noel Brinkerhoff and Danny Biederman, AllGov)
8 People in L.A. Among 243 Accused by Feds of $712 Million in Medicare Fraud (by Ken Broder, AllGov California)
Nation's Worst Cancer Doctor Pleads Guilty to Medicare Fraud (by Noel Brinkerhoff, AllGov)