Whistleblowers Reveal Accounts of Government Retaliation at Senate Hearing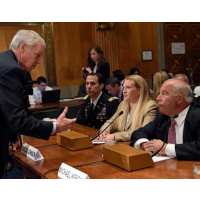 Sen. Ron Johnson speaks with whistleblowers (L to R) Jason Amerine, Taylor Johnson, Michael Keegan (photo: Susan Walsh, AP)
Members of the U.S. Senate Homeland Security and Governmental Affairs Committee got an earful Thursday from four whistleblowers who spoke about retaliation against them for exposing government wrongs.
Army Lieutenant Colonel Jason Amerine, a decorated Special Forces officer who helped retrieve Sergeant Bowe Bergdahl after being held captive for five years, talked about what happened to him after he told Representative Duncan Hunter (R-California) "the bureaucracy for hostage recovery was broken" and spoke with the Federal Bureau of Investigation. He was branded a whistleblower, "a term that has become radioactive and derogatory," he said at the hearing. Amerine's security clearance was suspended, his retirement was halted and he was investigated.
Customs and Border Protection officer Jose Rafael Ducos Bello reported fraud, waste and improper use of overtime at his agency. He told the committee that he was subjected to so much retaliation that it affected his son, who tried to commit suicide.
Taylor Johnson, a Department of Homeland Security senior special agent, told lawmakers she endured reprisals after disclosing gross mismanagement, fraud and waste, including national security risks, in a visa program for foreign investors, The Washington Post reported.
Michael James Keegan, a former Social Security associate commissioner, said he was isolated from other workers and "confined to an empty office" after saying agency officials misled Congress about a building project.
"These men and women take great risk to stand up and expose wrongdoing," committee chairman Sen. Ron Johnson (R-Wisconsin) said. "They sacrifice their careers, their reputations and often their financial security. Congress — and this committee in particular —must support federal whistleblowers and ensure that they are adequately protected from retaliation."
-Noel Brinkerhoff
To Learn More:
Whistleblowers Tell Senate Hearing About Retaliation for Reporting Wrongs (by Joe Davidson, Washington Post)
Johnson, Committee Hold Hearing on Whistleblower Retaliation (U.S. Senate Committee on Homeland Security and Governmental Affairs)
Federal Whistleblowers (C-SPAN, video)
Good Luck being a Whistleblower at the VA (by Noel Brinkerhoff and Steve Straehley, AllGov)
FBI more Hostile to Whistleblowers than other Parts of the Government Are (by Noel Brinkerhoff and Steve Straehley, AllGov)
Terrorists, Spies, Whistleblowers Treated the Same by Obama Administration (by Noel Brinkerhoff, AllGov)